Probing into the Atmospheres of Exoplanets with Dr. Munazza K. Alam
With Hubble, we were observing at optical wavelengths and with JWST we have access to the infrared. We also have higher resolution, higher precision, and higher telescope stability. So the data quality is much better than before! 
Are we alone in the universe? This is one of the principal questions for astronomers studying "extrasolar planets", also known as "exoplanets". Today, astronomers start addressing one of science and philosophy's most fundamentally primitive yet unanswered questions. The ramifications and peculiarity of such a possibility would be genuinely multidisciplinary, from a scientific context to social implications.
Astronomy is one of the oldest sciences, developed by ancient scientists thousands of years ago. But the specific study of exoplanets kicked off in 1995 when the first detection of an exoplanet around a Sun-like star was reported by Mayor and Queloz. The discovery of this gas giant planet called 51 Pegasi b, was a huge surprise. Previously, we did not even fathom the existence of gas giant planets like Jupiter so close to their host stars. 
Today, the number of confirmed exoplanets has exceeded more than 5300 (Exoplanet. eu – 2022), a population size that couldn't have been believed and estimated 30 years ago. But we are still searching for planets that could sustain life. exoplanets that we are trying to study are astronomically distant from us, making it challenging, expensive, and tricky to observe.
In most cases, we can only observe the light from their parent stars to study their atmospheres. We also have to sit tight for the planet to transit its host star to learn about its atmospheric composition and other present-day physical properties. In the coming decades, these techniques will be expanded to search for signatures of habitability or any possible signs of extraterrestrial life.  
To discuss this area of research further, we had the privilege to talk to Dr. Munazza K. Alam, a Postdoctoral Research Fellow at the Carnegie Earth & Planetary Laboratory and a National Geographic Young Explorer. She completed her PhD at Harvard University – "I am really inspired and uplifted after listening to her talk about the science of Exoplanets". 
Fouz: Congratulations on your recent discoveries with "The Transiting Exoplanet Community Early Release Science Program". Today, being at the peak of your work in exploring the "Atmospheres of Exoplanets"? How did a young kid from New York get here?
Munazza K. Alam: My story starts with curiosity about how the world works and asking the question, "Why?" Then, in high school, my physics teacher, Dr. Jensen, who was the first woman I knew with a Doctorate in Physics, was so inspiring to me. She was able to answer the most difficult questions in a very easy-to-understand way. It was Dr. Jensen who inspired me to study physics as an undergraduate.
I then connected with a physics professor at my university who asked me to join her research group. When I started attending their group meetings, I realized, "These researchers were asking questions that no one in the world knew the answers to." It was life-changing for me to witness firsthand how researchers work to advance humanity's overall understanding of the natural world and the physical universe.
Later on, I had the opportunity to collect data for my research using professional telescopes at national observatories, which are typically situated in remote locations. I grew up in New York City, where there is a lot of light pollution, So the first time that I saw a true night sky, it was truly breathtaking – and at that moment, "I decided to study astronomy for the rest of my life".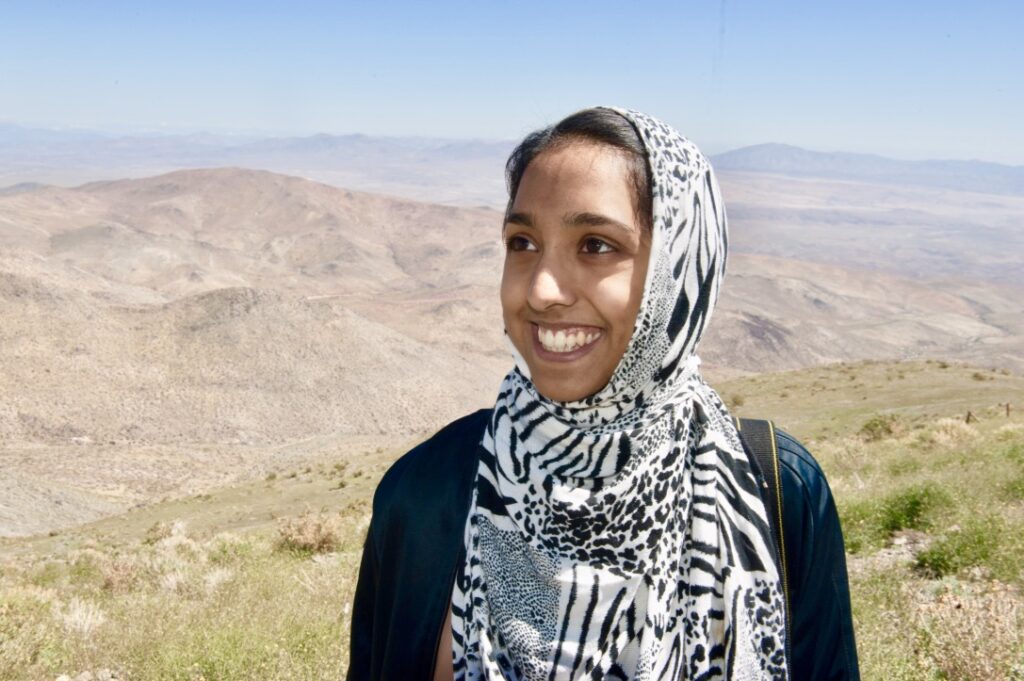 Fouz: Excitingly, getting exposed to something at this young age is truly charming. Well, my next question would be about your recent work with the JWST; discovering the atmospheric composition of a faraway exoplanet is truly ground-breaking for us! Would be great if you could discuss the details of your involvement and the overall discovery. 
Munazza K. Alam: I started studying exoplanets as a PhD student in the Department of Astronomy at Harvard University. It feels a bit like fate to me! Before I started at Harvard, I went to a conference where a professor from a university in the UK was giving a presentation on the atmospheric characterization of "Hot Jupiters" using the Hubble Space Telescope thought this science was so cool but that I wouldn't be able to work with this professor because he's located in the UK and that's too far away.
But then, two months later, I was visiting Harvard before deciding to attend there for my PhD, and I met the person who later became my thesis advisor- Dr. Mercedes López-Morales. Our personalities clicked right away, and she mentioned that she had recently submitted a proposal (not accepted then) to study a large sample of "Hot Jupiters' Atmospheres" in collaboration with the same professor from the UK I mentioned earlier.
Coincidently, they both were working together on the same project – so I now had the potential opportunity to work on Hubble observations of hot Jupiter atmospheres as well! I then moved to Boston for my Ph.D. In the meantime, the proposal was accepted, and the data started to come in. This is how my route to studying exoplanets began!
During my time as a PhD student, I joined a collaboration called the JWST Transiting Exoplanets Community Early Release Science (ERS) team, in which we outlined the best JWST instrument modes and the best planets to consider for observing exoplanet atmospheres. It was a huge community of scientists around the world (including many senior people who laid the groundwork for this field of study and whose papers I had been reading). We wrote the first publication with 50+ authors detailing the best observation modes and planets that we decided on. As a team, we also submitted a JWST observing proposal. I remember I was in the Canary Islands for a conference when I got the email that our proposal was accepted.
These observations were eventually taken this past August! As part of ERS, we are testing three techniques for observing atmospheres: transmission spectroscopy, emission spectroscopy, and complete orbit phase curves. (In transmission spectroscopy, we see a planet pass in front of its parent star and block out some starlight. The starlight filters through the planet's atmosphere, and at different wavelengths, we can measure the planet's size. Any variations that we see in the planet's size at different wavelengths are the fingerprints of absorption by different atoms and molecules in the planet's atmosphere.)
For the transmission spectroscopy program, we observe a hot Jupiter called WASP-39b with four different instrument modes between 0.6-0.5 microns and at various resolutions. I was mainly involved in the high-resolution NIRSpec observations taken in the G395H mode (H stands for high resolution G is for grism or the way the light is split on the light on the instrument on the telescope, and 3.95 is the mid-wavelength). With Hubble, we were observing at optical wavelengths and with JWST, we have access to the infrared. We also have higher resolution, higher precision, and higher telescope stability. So the data quality is much better than before! 
When the data first came in, we had no idea what to expect. Our theoretical models predicted different features such as carbon dioxide, water, methane, and carbon monoxide. Most excitingly, we saw this beautiful bump at 4.3 microns, which is evidence of the carbon dioxide in this planet's atmosphere. Previously, we had never observed carbon dioxide with low-resolution space-based observations. There was also another tiny bump at 4 microns, an absorption feature that was not in any model.
I'm a data analyst and work on observations, but this was very exciting for the theorists on the team since this hadn't been predicted by their models. So, they started checking and testing a bunch of different possible molecules to explain this feature, and the one that surpassed all the tests was sulphur dioxide (SO2). This molecule is produced by photochemistry, the interaction of light from the star interacting with an exoplanet's atmosphere. So, with JWST, we are already learning and finding so many new and unexpected things! 
Fouz: Wow! This is just great! Now, can we say we are getting closer to discovering possible conditions for life on other exoplanets? It would be very optimistic now. Do you think it's now closer that we may find any biosignatures on any of these exoplanets? 
Munazza K Alam: We are getting closer, but still very far from figuring it out. Hot Jupiters aren't the best targets for the search for life, but are interesting for understanding how planets form and what physics and chemistry occur in their atmospheres.  Rocky planets are better targets, but for these worlds to be habitable, we think they must have liquid water on their surfaces and show evidence of biosignatures (the so-called fingerprints of life). But it's tricky because biosignatures such as oxygen, ozone, methane, or carbon dioxide can be produced by abiotic (non-life) processes. Even if we find a planet that checks every box for habitability, we have to definitively rule out abiotic processes and then prove that life is the only way to explain what we see.
"Hot Jupiters aren't the best targets for the search for life but are interesting for understanding how planets form and what physics and chemistry occur in their atmospheres". ~ Munazza
Fouz: Truly, many people are calling it out that with the JWST alive, it's one of the exciting times to get into the field of the exoplanet atmosphere. Also, there's another way, like SETI (Search for the Extraterrestrial Life), how they are trying to find the technosignatures and how we are exploring exoplanet atmospheres. So, what mode or approach must we take to search for life? 
Munazza K Alam: The search for life should definitely incorporate a multi-directional approach, including but not limited to theoretical models, observations at different wavelengths and resolutions, and different atmospheric characterization techniques. There must also be investment and advancement in instrumentation to probe planets and their atmospheres.
Fouz: Yes, astronomical innovations would work, even as we invented JWST technologies. One more thing, if you remember, we had sent a Voyagers a few decades ago. In the same possible way, if we had sent a probe within the direction of Proxima Centauri (The nearest star to our Solar System). Wouldn't it have reached in a few decades? What do you think about that?
Munazza K Alam: Yes, well, I started my PhD around the time of the discovery of Proxima Centauri b, which is the closest exoplanet to Earth  (just a few light years away) and orbiting in the habitable zone of its host star. There's a project called "Breakthrough Starshot", proposing hundreds of more minor chips with cameras and signal processing capabilities that would be sent via solar sails and launched with lasers from space at around  20% of the speed of light – making it possible to reach Proxima Centauri b within our lifetimes, in two-three decades.
The project still has other challenges – including the fact that shooting lasers in space would be a problem between different nations. But, yes, theoretically, it's possible that we could send a probe to our nearest star, and we would be a step closer to answering the question, "Are we alone?".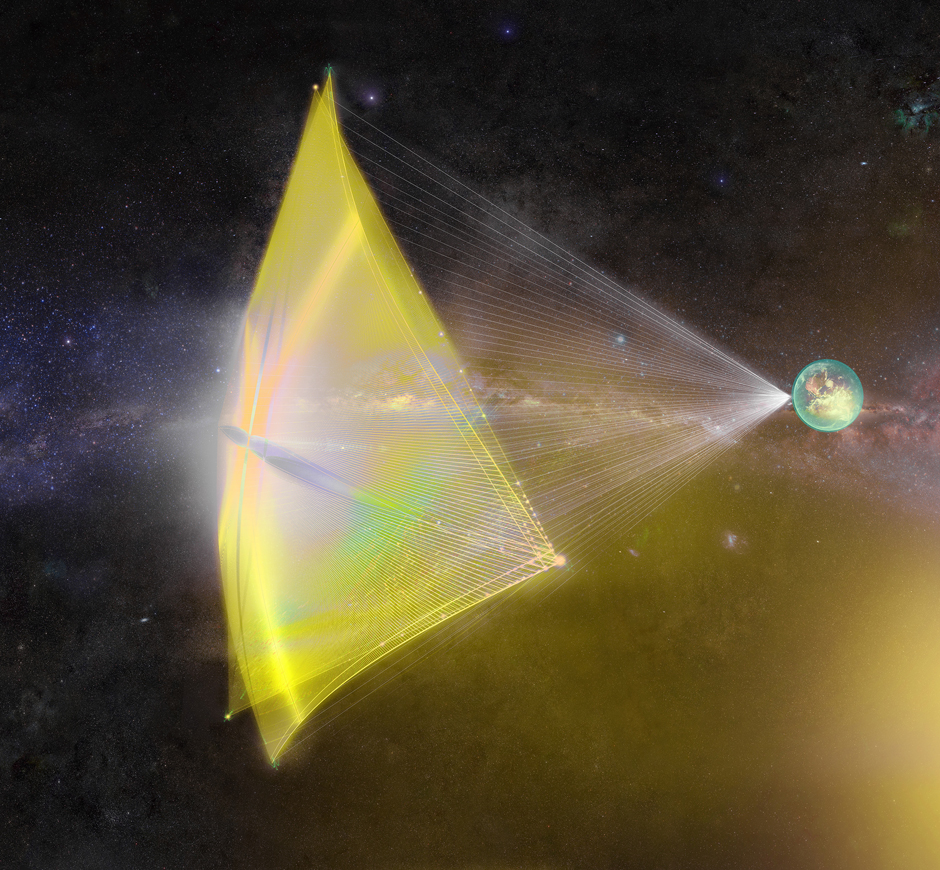 Fouz: This just sounds very promising, I guess. Anyhow, if you would discuss one more thing, what do you think is habitability? As it has been a very subjective topic of conversation now. So, what are your approach and parameters? We should look to have a better understanding of habitability now.
Munazza K Alam: Some relevant parameters include star type, the material from which the planet is formed, the temperature of the planet, distance to the star, radiation caused due to photochemistry, star's activity (such as flares), and the atmospheric composition of a planet. We think carbon, hydrogen, nitrogen, sulphur, and oxygen are some elements vital for life. There are also theories about super-habitable planets around K-type stars, slightly more excellent stars. 
Based on Earth (the only planet we know hosts life), we are looking for liquid water on the surface of a rocky planet and carbon-based life. However, we have seen that extremophiles on Earth exist in extreme environments, such as the depths of the oceans, deep in volcanic vents, and away from sunlight, So that is a possibility. But currently, the habitability conversation is focused on carbon-based lifeforms such as those on Earth. 
Fouz: Yes, this would be pretty objective to approach habitability. It's just similar to our own standard of Earth could be found among 'checkmarks'. Also, what do you think about Mars? Nowadays, we are talking about terraforming Mars. Can humanity survive in domes or suits there in a long-term scenario? As atmospheric conditions are pretty harsh. 
Munazza K Alam: Well, to terraform Mars, we would need to modify the planet to make it more suitable for humans, such as raising its temperature and increasing its oxygen content. But the evolutionary history of our planet took millions of years to evolve life, and terraforming a planet isn't easy or quick – and shouldn't be the first solution. We must take care of our planet and the environment and not take it for granted. Our home planet evolved in such a way for life to survive, thrive, and evolve over the last 3.8 billion years.
Humanity's foremost responsibility is to protect our planet to fight climate change and the threat of world wars, which seems to be a scary possibility for the future. As an astronomer, I study faraway worlds that are entirely different places– but if we don't protect our home planet and peace for humanity, we could also deprive future generations of the opportunity to explore and understand these faraway worlds.
Also, read: Detecting alien life in the solar system— A talk with Dr. Nozair Khwaja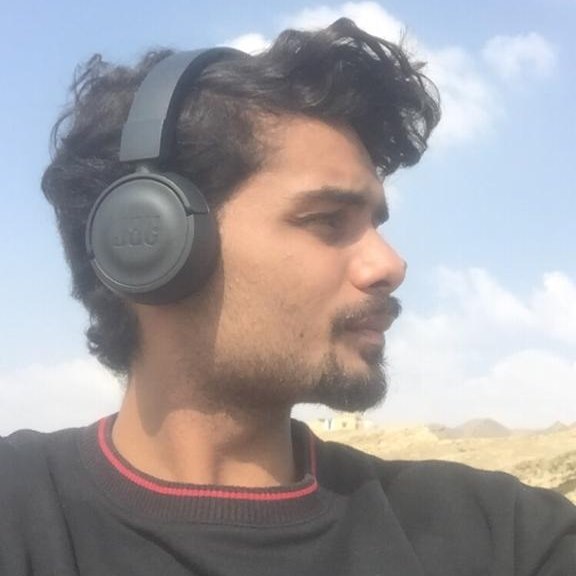 I am a Writer and Science Communicator at Scientia Magazine, who also lectures and audits – Aviation/Aeronautical Engineering at ATH – IST. My interests in studies are Aviation, Data-Driven Astronomy/Astrophysics, Environment, and other Space Sciences.