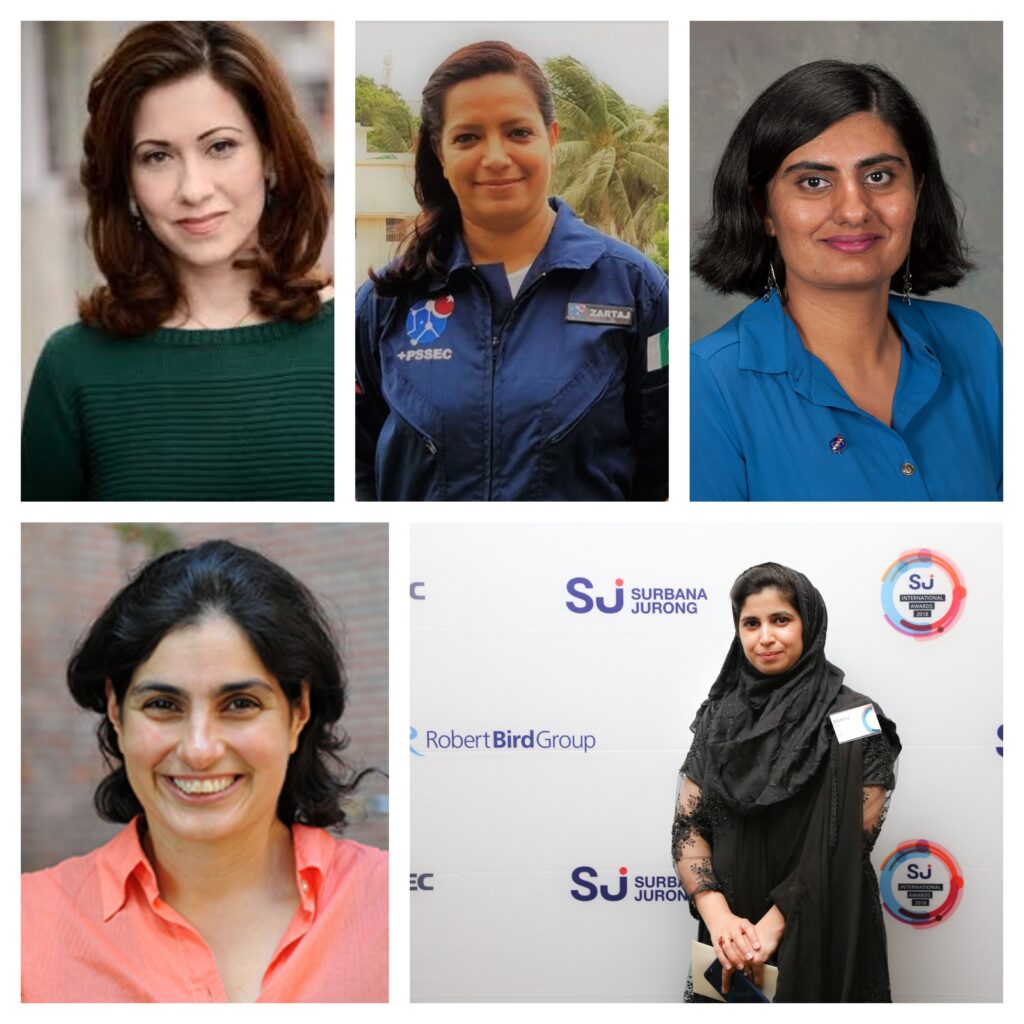 The Brilliant Pakistani Women in STEM
The contribution of Women has grown in different fields of science, technology, and STEM. Pakistan is a developing country that is striving to accelerate its economic growth and catch up with the pace of the fast-growing economies of the region. Women are about 48.5 % of Pakistan's total population, they have remained somewhat under-represented in most disciplines, and despite all the challenges at multiple levels, women's contributions to science and technology are extraordinary in Pakistan. Here, we are highlighting some of the brilliant women working in STEM and making a name for Pakistan.
Tasneem Zehra
Based In Lahore, Tasneem Zehra received her early education here. At the age of 13, she sat for her O Levels privately, through the British Council and went on to take her A-Levels at the age of 15. During these years, Zehra wrote extensively. Her articles were featured in various national newspapers as well as the magazine Newsline. In 1988, she won an international essay competition held by the Children as the Peacemakers Foundation based in California, USA. In 1990, Zehra won First Prize in an essay competition held by the Pakistan Post Office and received the Boswell Medal for excellence, which is awarded to students who excel academically and are also exceptionally well-rounded.
Zehra attended Kinnaird College Lahore and obtained her Bachelor of Science (BSc) in Mathematics and Physics. Later on, she attended Quaid-e-Azam University Islamabad, where she earned her Master of Science (M.S.) in Physics.
Zehra's journey got a twist when she went to Trieste, Italy, on a scholarship awarded by the Abdus Salam International Centre for Theoretical Physics (ICTP) for a yearlong post-graduate degree in the field of High-Energy Physics. She completed her Ph.D. in theoretical physics and became the first Pakistani woman String Theorist. After which she went to Harvard University for a two-year-long postdoctoral research position.
Later she moved back to Pakistan and joined the LUMS as an Assistant Professor of Physics. Zehra helped establish the LUMS School of Science and Engineering and was assigned as a founding faculty member. Her academic research focuses on using 11-dimensional supergravity to arrive at a classification of the flux backgrounds that arise when M-branes wrap supersymmetric cycles.
Zehra has been an excellent writer throughout her career, and her debut novel, Only The Longest Threads (Paul Dry Books, 2014), reimagined defining moments of discovery when new scientific theories changed our understanding of the universe, and our place in it.
Once she said, "Since no one comes up with better brain teasers than Nature, my love for physics was an inevitable outcome. I gravitate towards fundamental, abstract concepts, so string theory reeled me in. I was fascinated by the idea that all the rich diversity of matter and forces in our universe could be manifested by the flutters and oscillations of infinitesimal strings."
Mobina Zafar
Mobina Zafar based in Lahore, she is SMEC Senior Programmer and was honored as Young Female Professional of the Year at the Surbana Jurong (S.J.) International Awards held in Brisbane, Australia, in December 2018. She has been working with SMEC, a member of the Surbana Jurong group of companies, since 2012. The annual S.J. International Awards recognize the most outstanding employees, projects, and innovations of the Surbana Jurong Group, which operates in more than 40 countries. From several exceptional nominees, Mobina was chosen for her technical skill, innovation, and dedication.
She played a crucial role in pioneering the development of a Project Management and Monitoring Information System (PMIS) for our water resources projects here in Pakistan. Mobina raised in a family that values female education, with both parents working in Pakistan's education sector. Her mother has worked as a secondary school principal and education development officer. Her siblings opted to study engineering and information technology, and she recalls being excited by the digital transformation from a young age.
Once Mobina said, "Information technology has changed our world, and this fascinates me! It's why I chose to do my graduate degree in Computer Sciences and later completed a Master of Science in Software Engineering."
Training to be a female programmer in a traditionally male-dominated industry has not been without its challenges. There are specific perceived barriers for females in STEM fields, mostly based on stereotypes and cultural ethos, and She was not an exception. She accepted and overcame these challenges with the encouragement and support of her parents, husband, friends, and colleagues at SMEC. There are indeed barriers, but she feels the way to break them down is to demonstrate our true potential and quality contribution to our fields. She is keen to see more females study for and take up careers in STEM.
Mobina believed that "We should support and motivate more females in Pakistan to enter STEM fields. Information technology is such an exciting sector with tremendous opportunity for innovation and learning."
Zartaj Waseem
Zartaj Waseem was born in Karachi and belonged to a middle-class family. Her father is a Mechanical & Electrical Engineer (retired), and she studied Science/Computer Science, and she ended up doing Software Engineering. Her favorite subject was English and Science. She didn't like Math during her schooling, but in college, her math teachers helped her to nurture an interest in mathematics.
She said, "I firmly believe that teaching strategies and engagingly imparting subject knowledge are a vital element for inspiring students. Many people have content/subject knowledge, but not all of them can teach."
Presently, Zartaj is serving as STEM Education Professional, CEO & Co-Founder of Pakistan Space Science Education Centre (PSSEC). Nahyan Farooq, Chief Design Officer (CDO), came up with the idea of introducing Space Science Education in Pakistan, and together they founded PSSEC. He confided in her capabilities to join hands with him in inspiring and educating our young generation and present them with the quality STEM Education opportunities available to the children in the developed countries.
In addition to her corporate experience in the field of I.T., Zartaj has enjoyed being in the STEM Education field since 2010. STEM Education was quite a novel idea back then, and she has always wanted to do something different, something unique, and not just follow the trends. She finds herself as more of a leader and trendsetter, somebody who confidently spearheads initiatives.
She founded the Robotics & STEM Studio at Haque Academy, followed by a leading role in establishing Pakistan's first STEM Education organization, Robotics Labs. Becoming a coach/trainer for school kids Robotics teams and representing Pakistan at International Robotics Competitions with her team, like FIRST Lego League and Destination Imagination and as International Judge at FIRST Global.
This experience has led her to enjoy facing challenges when she tries to execute and implement a new idea. She realized that Computer Science is a very diverse field, be it in the education or the corporate sector, it gives one the autonomy and flexibility to make almost everything possible. Yet, Software Engineering is a male-dominated field. Although the team members she has worked with have always been very supportive and respectful, she realizes that people do not have enough faith in a woman's capabilities, but Zartaj stood as a symbol that women can handle matters independently in such fields.
STEM Education has been quite a game-changer for her. She has been on a roller coaster ride all these years, struggling to strike a balance between home/family and work. At the same time, she has been blessed with opportunities that she had never thought would come her way. Her family has been quite understanding and supportive, particularly her kids. As far as where she derives inspiration from, Bill Gates has been her role model. His character trait of being innovative in ideas and introducing newer and better technology to the world has always inspired her.
"I consider barriers as challenges to overcome, just like in a game you progress by overcoming obstacles, and you keep trying until you succeed. I don't think that these challenges are meant to stop us. I feel that barriers are there to make us change our strategy about approaching something and becoming better at it."
Zartaj is a true inspiration for girls who dream of something big. She said, "Girls are a miraculous creation of Allah, we have a compelling role, be it at home or in the field as a professional. First of all, it is imperative to get an education, and then something that I have assimilated and found very useful is the skill of self-learning. If you are good at self-learning and you are self-motivated, you are unstoppable. Our girls should be adaptable, assertive, and committed to what they dream of achieving."
Nargis Mawalwala
Nergis Mavalvala is a Pakistani-American astrophysicist well-known for her role in the first observation of gravitational waves back in 2015. She is the Curtis and Kathleen Marble Professor of Astrophysics and the Associate Head of the Department of Physics at the Massachusetts Institute of Technology (MIT). Nergis Mavalvala was born in Lahore but primarily raised in Karachi, Pakistan.
Nargis attended the Convent of Jesus and Mary, Karachi, for her O-Level and A-Level. She moved to the United States in 1986 and enrolled at Wellesley College and got a bachelor's degree in physics and astronomy in 1990. As a graduate student at MIT, she conducted her doctoral work under Dr. Rainer Weiss and developed a prototype laser interferometer for detecting gravitational waves. Before graduation, Nargis with her physics professor, Robert Berg, co-authored a paper in Physical Review B: Condensed Matter.
After graduate school, she served a postdoctoral researcher and a research scientist at the California Institute of Technology, kickstarted her work with cosmic microwave background, and then eventually indulge the LIGO project. Mawalwala mainly focuses on two fields of physics: Gravitational Waves Astrophysics and quantum measurement science. She went on to do her Ph.D. in physics from MIT in 1997.
Dr. Mavalvala joined the MIT physics faculty in 2002 and was elected to the National Academy of Sciences in 2017. Born to a Parsi family, she was the younger of the two children. Her parents highly valued their daughters' educational experiences and encouraged her to pursue higher education overseas. She was always interested in math and science and believed that she was intrinsically good at it.
Mawalwal frequently questioned for gender discrimination and how she was able to break down this barrier. In an interview with the Pakistani newspaper Dawn, she states, "I grew up in a family where the stereotypical gender roles were not really observed. Everyone is capable, and I set benchmarks for all these women willing to pursue a career in STEM.
Mawalwala is often viewed as a role model for aspiring female scientists of South Asian descent. In her childhood, she involved in handy work and was not bound to stereotypical gender roles in South Asian culture.
In a television interview in 2016, She stated that "When everyone has access to education, that's when all the other things come into place. You've got to do what gives you pleasure, got to find a way to do it. People should just do what they enjoy most, and I think for all of society whether it's in Pakistan or elsewhere we have to create opportunities for young girls to do what they're good at and do what they love to do must cultivate the sense of wonder in a child."
Nergis Mavalvala was among the team of scientists who, for the first time, observed ripples in the fabric of spacetime called gravitational waves. On February 11, 2016, the detection of gravitational waves confirmed a major prediction of Albert Einstein's 1915 general theory of relativity. After the announcement of the observation, she became an instant celebrity scientist in her birthplace of Pakistan. Talking to the press, she claimed that "we are really witnessing the opening of a new tool for doing astronomy."
During an interview with Pakistani newspaper Dawn, after the detection of gravitational waves, she claimed that she was baffled by the public interest in her research in Pakistan. She said, "I really thought of what I want people to know in Pakistan as I have garnered some attention there. Anybody should be able to succeed — whether you're a woman, a religious minority, or whether you're gay. It just doesn't matter."
She has also worked on the development of exotic quantum states of light, and in particular, the generation of light in squeezed coherent states. By injecting such states into the kilometer-scale Michelson interferometer of the LIGO detectors, her group significantly improved the sensitivity of the detector by reducing quantum noise such squeezed states also have many other applications in experimental physics.
She also worked on laser cooling, where the Optical cooling of mirrors to nearly absolute zero can help eliminate measurement noise arising from thermal vibrations. Part of her work focused on the extension of laser-cooling techniques to optically cool and trap more and more massive objects, both for the LIGO project and for other applications, such as to enable observation of quantum phenomena in macroscopic objects. Prominent results from her group in this area included cooling of a centimeter-scale object to a temperature of 0.8 kelvins and inspection of a 2.7-kilogram pendulum near its quantum ground state. These experiments lay the foundations for observing quantum behavior in human-scale objects.
On February 20, 2016, Ambassador of Pakistan to the United States, Jalil Abbas Jilani, conveyed the Government of Pakistan's message of felicitation to Nergis Mavalvala for her outstanding achievement in the field of astrophysics. She won the first Lahore Technology Award launched by Information Technology University on December 17, 2017. In 2017, the Carnegie Corporation of New York honored Mavalvala as one of its Great Immigrants awards recipients. The awards go to "naturalized citizens who have made notable contributions to the progress of American society." In 2014, NOGLSTP recognized Nergis Mavalvala as the LGBTQ Scientist of the Year. She was awarded a MacArthur Fellowship in 2010.
Hiba Rehmani
Hibah Rahmani was born in Pakistan, and her family moved to Kuwait when she was one month old. Since she was a child, she has been fascinated by the beautiful night sky. Her fondest memories are walking with her family at nights in desert and sidewalk by the Arabian Gulf, looking up at the sky to admire the moon and stars, and thinking about astronaut Neil Armstrong.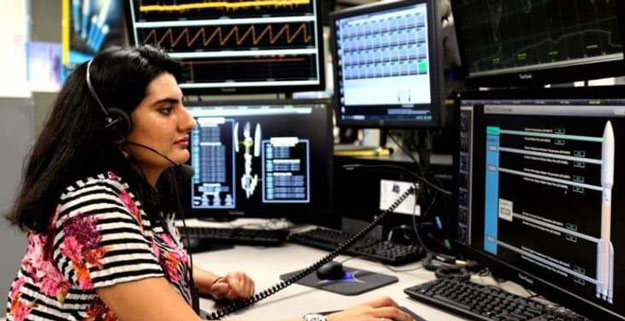 It is around this time when Hiba developed a passion for space and astronomy. In 1990, when Iraq invaded Kuwait, her family had to evacuate and then flew to Pakistan. She moved back to Kuwait with her family in 1992. Her parents always emphasized the value of high education and hard work. When she was in the 8th grade, she wished to become an engineer.
After completing high school in Kuwait, Hiba moved to the USA in 1997 to pursue a B.S. degree in Computer Engineering from the University of Central Florida (UCF). This was her first time away from my family, and she had to learn how to live by herself at just 17 years old.
After graduating from UCF, she joined the Boeing Company at Kennedy Space Center (KSC) as a Systems Engineer working on International Space Station (ISS) processing. She was involved with integrated testing of the ISS components, and sometimes astronauts would stop by to either view or participate in the examination. It is during this time that she developed a strong desire to become an astronaut and started taking steps towards this goal. She obtained an M.S. in Electrical & Computer Engineering from Georgia Tech while working full-time.
In 2008, Hiba accepted a position with NASA at KSC as an Avionics & Flight Control Engineer. After Kickstarted work at NASA, she felt that a bit closer to her dream to be an astronaut. Currently, she is in the Engineering and Technology Directorate, supporting the NASA Launch Services Program (LSP), working on expendable launch vehicles like Pegasus XL and Falcon 9. Hiba's role is to provide technical expertise, follow launch vehicle testing, perform data reviews, and provide functional assessments of engineering issues. She has the privilege of working with a fantastic team.
NASA has provided her all the opportunities for professional development, and she obtained a Graduate Certificate in Space Systems Engineering from Stevens Tech and participated in the 2012 Space Studies Program offered by the International Space University. In addition to her engineering work, she often volunteers for outreach and public affairs activities because she loves to inspire others as a woman in STEM. She speaks to students at local schools about her career and has volunteered as a science fair judge. She also provides real-time updates to the NASA LSP Twitter and Facebook accounts during LSP launch countdowns when she is not directly providing engineering support for the mission itself.
She asks the youth, especially girls, to "stay focused and dream big and give up, you can achieve whatever you want if you work hard."
Also, Read Remembering Dr. Salam; a meritorious journey to the best in science
Eruj is a Space & Astronomy enthusiast pursuing an MSc degree in GIS and Remote Sensing at Karachi University. She is the Management team member & Head of Social media at RaheQamar's Karachi chapter. Eruj is the founder of the Society of Astronomy and Space Technology (SAST) and an active member of the Arts & Culture Society of Karachi University.