Japanese spacecraft Hayabusa-2 releases stunning images of asteroid Ryugu
Asteroids are the rocks have been drifting through space and spending a lonely life since the formation of our solar system. But last week asteroid Ryugu was visited by a special visitor: Hayabusa-2, Japan's spacecraft, which landed successfully on the distant icy world.
The images released by the Japan Aerospace Exploration Agency are remarkable and show the image of the asteroid just before it took off from the surface of the distant world.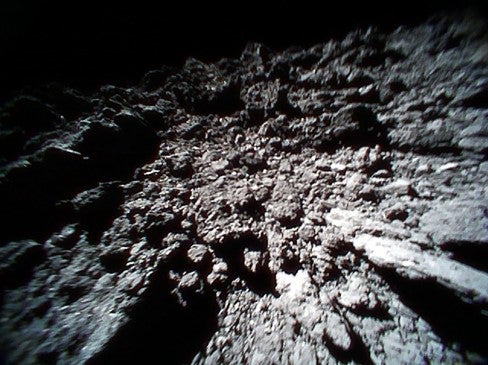 The first photo was taken at 10:06:32 JST (onboard time) and you can see the gravel flying upwards. The second shot was at 10:08:53 where the darker region near the center is due to touchdown," JAXA tweeted.
Hayabusa-2 launched in December 2014 by JAXA. Its mission was to visit the distant, lonely and icy world of Ryugu―a half-mile wide-body― study its surface and collect samples of soil and debris. Asteroid Ryugu is a primitive asteroid that orbits the sun at a distance of up to 131 million miles (211 million kilometers).
The probe reached the distant world in June 2018 and carried out observations of the surface, gravitational studies, and rehearsals before a complicated touchdown last week. It also collected shallow samples from the surface. In April 2019, the probe blasted a copper plate and an explosive box to study the layers of the soil underneath the surface of the asteroid. The probe also collected samples from the asteroid.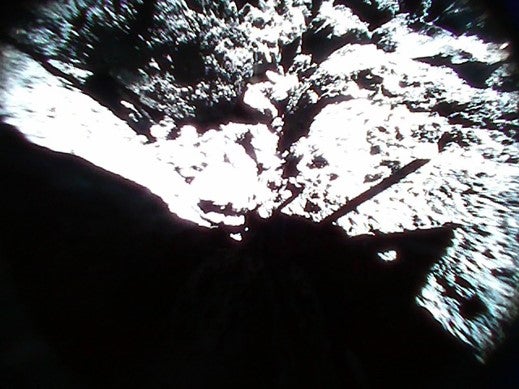 The Japanese exploration program will provide insights into the chemical nature of asteroids and probably unveil secrets of the solar system.

Muhammad Abdullah Khan has done bachelors in Chemistry from Government College University
Lahore. He is a science enthusiast and loves to read and write about astronomy, cosmology and latest
scientific endeavors.