Rapid Growth of IoT Industry
Industrial Internet of things IIOT is a new crisp for businesses with the potential to change the dimensions.
It won't be wrong if we call 2021 a year of digitalization. As the industries are resurfacing from the covid crisis, we also witness a massive paradigm shift to technology-based solutions for everything. This deliberate choice does seem a cost/time-saving option in the present times, providing a better customer experience.
With the connectivity increased manifolds- thanks to the 5G services and the breakthrough inventions of Artificial intelligence and machine learning; we dive into a bubble of IoT. Do I sound like a tech zombie? Believe me; you've become one too. Imagine yourself living without ALEXA for a second. BOOM! Told ya.
Recently recorded statistics also hint at the leap and bound trajectory of the IoT industry in the coming years. Recent statistics show that the global IoT market is anticipated to reach a value of USD 1,386.06 billion by 2026 from USD 761.4 billion in 2020 at a CAGR of 10.53% during the forecast period (2021-2026). IoT Analytics expects 2021 IoT spending to increase by 24.0%, with the overall market reaching $159.8 billion by the end of 2021. Meanwhile, the number of global IoT connections is expected to reach 31 billion, an exponential increase of tenfold, as IoT Analytics reported last year.
China managed to cease pandemic effects with its timely decisions. As a result, the industry's IoT spending grew by 23.5%, nearly twice the global average. During the pandemic times, spending on IoT cloud/infrastructure services increased by 34.7%.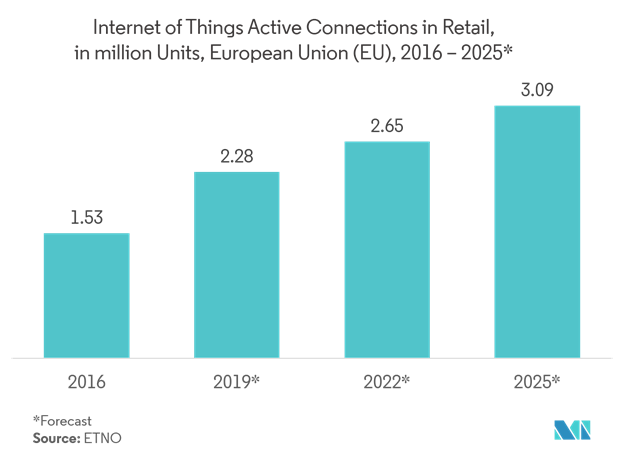 Industrial View
Industrial Internet of things IIOT is a new crisp for businesses with the potential to change the dimensions. IoT entrenched itself in industries from smart homes and smartwatches because of its implications in enabling the industries to automate.
IoT can be seen in healthcare centers as IoMT (Internet of Medical Things), significantly benefits the doctors to monitor patients remotely. Also, it has enabled the patients to check their vitals at home using different health apps. IoMT has played a considerable role in constraining COVID-19, especially in China.
IoT plays a big part in driving digital transformation projects through 5G network build-out and edge computing.
IoT also seemed to have become a strong pillar in other big businesses in the form of IoT (Internet of Retail Things), IoLT (Internet of Logistics Things), and IoWM (Internet of Workforce Management). It can monitor the whereabouts of a person. It also helps to find the likable purchase if prompted in the right place at the right time. To be precise, for industries, IoT means big money in no time!
IoT and Data Analytics
One of the sole reasons for the uphill trajectory of IoT is its partnership with Artificial intelligence and machine learning. This partnership has geared up the IoT to expand its horizon. It can now multitask functions and process the received data to make recommendations from monitoring and storing data.
Honeywell's new Connected Life Safety Services (CLSS) is an excellent example of IoT based cloud platform that replaced technicians as it is self-sufficient in design, installation, commissioning, and maintenance. It not only takes data but is also smart enough to make informed decisions and suggestions.
Enterprise performance-based management is a category of Honeywell that can be built from the data extracted from the organization's environment. Cisco's new solutions enable the organizations to increase their efficiencies to make better business decisions and accelerate digitization projects.
IoT and Data Processing
As IoT has become more of a game of processing rather than just storing and monitoring data. The sole requirement of industries from the IoT these days is to process the data faster, enabling enterprises to make informed decisions based on that processed data. Faster and more exhaustive Wi-Fi access can feed with fast-paced processing and cloud computing like 5G networks.
IoT plays a big part in driving digital transformation projects through 5G network build-out and edge computing. The new smart vehicle partnership announced by AWS and NXP also utilizes NXP's smart vehicle controller and AWS's edge and cloud services. 5G indoor distributed Massive MIMO solution joint innovation is also recently launched by Huawei Technologies Co. Ltd in collaboration with China Unicom Group; a colossal breakthrough in the indoor field. Hence, with the convergence of 5G networks, the trend of IoT will only go onwards and upwards!
Though IoT promises a new exciting era of smart devices, with Alexa being our forever partner, the fact remains that the perks will come with some privacy tradeoffs. To give customers a comfortable user experience, IoT Analysts have to develop some ensured security policies. Other than that, the IoT industry is bound to take a flight only up high!
References:
Also, Read: Every data has a story: Visualizing an idea beyond data
Sabeeka Zafar is a Bioinformatician-to-be with a passion to be a significant part of the great revolution in the near future in the field of Bioinformatics specifically and that of Science generally. Sabeeka is a social activist, enjoys working with people for the betterment of the society and loves to read and to write.