Sania Alam— The Super Learning Queen
Alam was awarded the esteemed "Brain of the Year 2023/2024" award by the UK organisation Brain Trust.
During the last two decades, outworking gave way to outsmarting. And now, with more sophisticated tools and methods, things are shifting again. Super-learning skills can make the difference between adapting to an unexpected event or succumbing to it using static and stale approaches. It can turn a limiting career into an infinite one. And it can make or break an entire organization, especially in the face of change.
As the Zen monk and Shunryū Suzuki said: "In the beginner's mind, there are many possibilities, but in the expert's, there are few." In a workplace and world of constant unpredictability, the ability to imagine options is key. Subject matter expertise can still be essential, but only if it goes hand-in-hand with the ability to learn, unlearn, and adapt.
Sania Alam is an education specialist and a businesswoman. She's CEO of the Futuristic Learning Institute and head of the US National Memory Sports Council and the Pakistan National Memory Sports Council. Born in Pakistan, Alam migrated to the US with her family at a very young age.
For her groundbreaking work in education and super-learning, Alam was awarded the esteemed "Brain of the Year 2023/2024" award by the UK organisation Brain Trust. This recognition places her in the company of luminaries such as Professor Stephen Hawking, astronaut Senator John Glenn, former world chess champion Garry Kasparov and Eugene Roddenberry, the inventor of Star Trek.
Additionally, Alam received the Youth Excellence Award in 2022 from Prime Minister Shehbaz Sharif. In 2021, she was honoured with the Lifetime Achievement Award from US President Joe Biden and her contributions were recognized by being named in the Pakistani Foreign Minister's Honours List. She's also a member of the Prime Minister of Pakistan's National Youth Council for Youth in policymaking.
Below are a few excerpts from her recent conversation with our Chief Editor, Saadeqa Khan.
Saadeqa: Let us know about your family background and childhood days.
Sania Alam: I am of Pakistani origin; I migrated to the USA when I was very young with my parents and two siblings. My father became a victim of hate crimes against Muslims after 9/11. He was shot and stabbed at his workplace, leaving our family in a severe financial crisis. During this challenging time, a non-profit organization, Express Care, helped the family recover. And this is where life flipped upside down for the better.
Saadeqa: Who inspired you to an off-beat career as an educational specialist? What was the motivation behind founding your institution, Futuristic Learning?
Sania Alam: My journey into this distinctive career was guided by my Ustaad, who introduced me to SuperLearning techniques during childhood. He guided my parents to opt for homeschooling. One of the techniques he taught me was the speed reading technique, which I applied to my high school education. Remarkably, I completed my four-year high school curriculum within a year, achieving high school graduation at the age of 14, for which I gave 106 exams spanning various subjects.
My respected Ustaad shared his vision with me to provide such super-learning techniques to others. I then embarked on a global travel journey to learn directly from renowned Super-Learning and Mental Literacy experts, including luminaries like Tony Buzan, the creator of the Mind Mapping technique, and Dominic O'Brien, an eight-time World Memory Champion.
Witnessing the significant gaps in traditional education systems and the struggle of individuals to
adapt to contemporary demands motivated me to establish my institute, Futuristic Learning. The vision was to create a platform empowering individuals with the skills necessary for excelling in the 21st century. This platform harnesses the astounding potential of the human brain to uplift individuals, nations, and the world at large
In the near future, we aim to have our own education system in which 12 years of education can be completed in around three years using super-learning.
Recent Milestone: I am proud to share that I recently had the privilege of training 1,000 officers and cadets at the prestigious Pakistan Military Academy in Kakul. It was an enriching experience to contribute to developing these future leaders.
Extraordinary Achievements: The impact of our courses has been profound, resulting in my students becoming World Memory Champions, World Mind Mapping Champions, and World Speed Reading Champions. Furthermore, my students hold an impressive total of 5 Guinness World Records, all within the realm of memory enhancement.
Witnessing the significant gaps in traditional education systems and the struggle of individuals to
adapt to contemporary demands motivated me to establish my institute, Futuristic Learning.
Saadeqa: Have you ever encountered obstacles in your personal and professional life? How do you deal with such situations?
Sania Alam: Challenges are an inherent part of any journey. The distinction lies in how one approaches and overcomes them. One of the most significant challenges I faced was spreading awareness about
the importance of super-learning within educational systems.
Convincing authorities that Memory Training, Speed Reading, Mind Mapping, and Stress Management constitute the four pillars of learning— essential for fostering adaptable and forward-thinking individuals—is an ongoing endeavour.
Still working on getting these valuable skills adopted as part of the standard educational curriculums.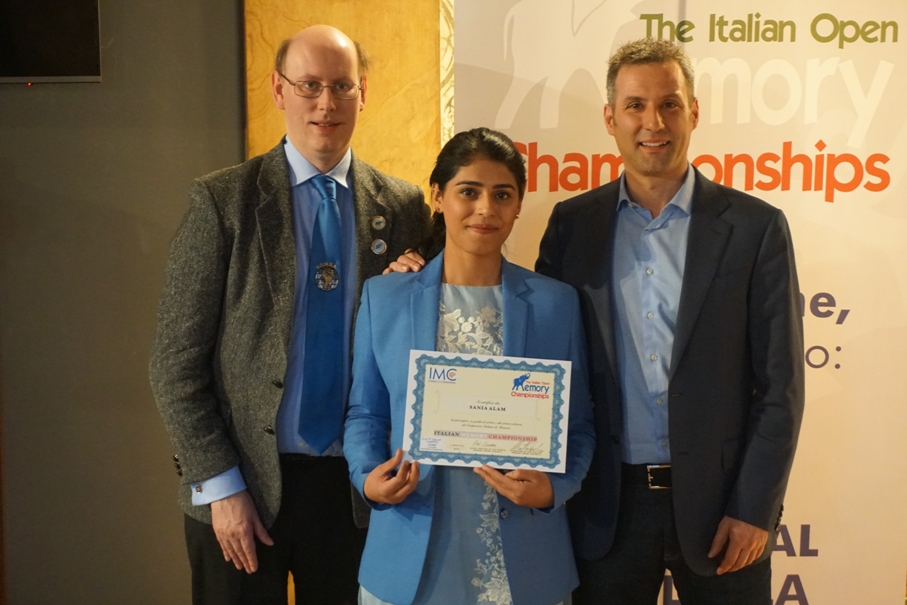 Saadeqa: Let us know about the significance of super learning in today's age. How does it help youngsters in career growth, especially in business?
Sania Alam: Super-learning, characterized by rapid and efficient knowledge acquisition, holds immense
significance in our swiftly evolving world. This skill equips youngsters to keep pace and surge ahead in the face of continuous change and advancement. By embracing super learning techniques, students can save precious time, enhance their intellectual prowess, complete their education more efficiently, and minimize struggles associated with rote learning.
Embracing the practice of asking questions becomes a powerful catalyst for breaking free from these conventional norms. ~Sania Alam
In the context of business, the value of super learning becomes even more evident. This skill becomes indispensable for individuals aiming to excel in an environment defined by dynamic market trends and ever-evolving demands. Rapidly acquiring new skills and the ability to creatively solve complex problems empowers professionals to make informed decisions confidently.
By consistently upgrading their expertise and knowledge, super learners hold a distinctive competitive edge, positioning them as invaluable contributors to the growth and success of any organization. In essence, super-learning transforms individuals into adaptable and forward-thinking assets ready to navigate the complexities of the modern business landscape.
Saadeqa: Pakistan's educational system sticks to decade-old stereotypes, with little to no scope for questioning and reasoning. How do Questions help in the learning process?
Sania Alam: It's evident that Pakistan's educational system often adheres to long-standing stereotypes,
where students are expected to absorb information without much room for inquiry and critical examination. In this environment, students are essentially subjected to a passive form of learning, where they unquestioningly accept information, irrespective of its accuracy or relevance in today's age and time. This approach can inadvertently hinder their ability to discern and evaluate information critically.
Embracing the practice of asking questions becomes a powerful catalyst for breaking free from these conventional norms. It fosters curiosity and nurtures essential skills like critical thinking and cultivating a culture of inquiry. By encouraging students to question, the educational system empowers them to embark on a journey of exploration, experimentation, and independent discovery. This approach not only moulds independent thinkers but also nurtures creative problem solvers, both of which are qualities highly sought after in today's rapidly evolving world.
This approach instils in them the confidence to make statements like "Stop, please explain how this is", fostering a more engaging and interactive learning experience.
To fellow women in business: If you have an idea, grab it and run with it. It could be the next billion-dollar idea that can change the world for the better.
Saadeqa: Super-learning is generally known as efficient, continuous, and rapid learning skills. Would you like to elaborate on the concept for the public?
Sania Alam: Imagine the potential of learning faster, enhancing your thinking capacity, effortlessly retaining information, and reading at lightning speed. These skills save time and energy and enable you to pursue your passions more effectively. Super-learning courses like Mind Mapping, Memory Skills, and Speed Reading unlock your brain's inherent capabilities.
They teach you to organize information, solve problems, generate creative ideas, memorize seamlessly, and read at a remarkable pace of over 1,000 words per minute. You can achieve remarkable outcomes by harnessing your brain's potential, which is precisely what our Super-Learning courses offer.
Saadeqa: What is the difference between the knowledge-first approach and the learning-first approach?
Sania Alam: The knowledge-first approach and the learning-first approach are two contrasting educational philosophies that shape the way we educate. The knowledge-first approach prioritizes the conveyance of facts and concepts, often through methods like rote memorization. On the other hand, the learning-first approach is centred around equipping learners with the tools and techniques to engage in self-driven learning. This approach shifts from mere accumulation of information to cultivating essential skills that fuel intellectual growth.
The learning-first approach goes beyond transmitting facts; it encourages students to delve deeper into subjects, encouraging critical thinking, problem-solving, and the ability to synthesize and apply information in diverse contexts. This approach recognizes that the true value of education lies not just in what is taught but in how students can adapt, analyze, and innovate based on their understanding.
In my view, the learning-first approach transforms students into active participants in their educational journey, enabling them to become lifelong learners with the capacity to navigate the complexities of the modern world.
Saadeqa: What are mind mapping courses, and what are the objectives behind initiating such courses in Pakistan?
Sania Alam: Mind Mapping is one of our many courses. It is a versatile visual learning tool that enhances
productivity and performance. It excels in managing, organizing, structuring, and recalling extensive information, making it invaluable in our information-driven era. This tool benefits students and corporate executives alike, aiding them in thriving amidst rapid change. Probably the most powerful skill one should have is learning to Mind Map.
Ongoing Endeavors: In addition to the aforementioned achievements, I annually have the honour of training 400 senior officers at the Pakistan Army's Command and Staff College. Furthermore, I extend my expertise to large corporate entities such as Engro Fertilizers and Sindh Engro Coal Mining Company, enriching their higher management's learning and development strategies.
Saadeqa: As a leading businesswoman, what would you like to advise fellow women about developing their learning strategy for success?
Sania: To fellow women in business: If you have an idea, grab it and run with it. It could be the next billion-dollar idea that can improve the world. So, believe in yourself and your capabilities. Set clear objectives, persevere through challenges, invest in continuous learning, and seek the mentorship of a Ustaad or an expert. And remember, every setback presents an opportunity for growth, so don't stop growing.
To Pakistani girls in science: You have boundless potential— ignore stereotypes, pursue your passion, and trust your capabilities. Your contributions are vital for our nation and the world's progress.
Also, Read: Empowering Young Girls for Science in Pakistan
Saadeqa Khan is the founder, CEO, & Editor-in-Chief of Scientia Pakistan. She's a member of the Oxford Climate Journalism Network (Second Cohort) and NASW. Saadeqa is a fellow of NPF Washington, The Falling Walls Foundation, and the Science Journalism Forum. Saadeqa has won several international journalism grants and awards for her reports.