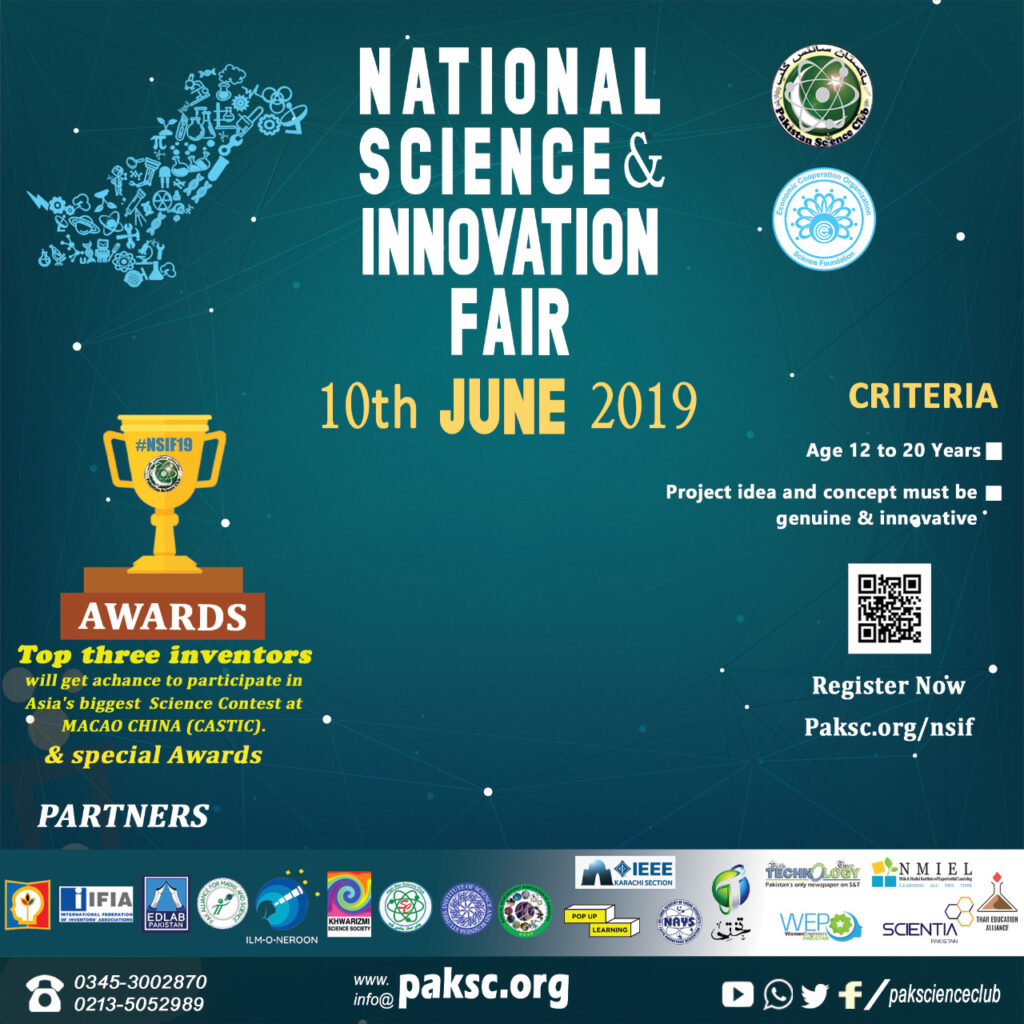 NATIONAL SCIENCE & INNOVATION FAIR 2019
Every one is gifted but most people never open their package.
Despite having brilliant minds and energetic youth, Pakistan is far behind in the field of science & technology as compare to the modern world. One of the main reasons is not having a proper platform for the young generation to express their talent. Now more than ever, we need our nation's best and brightest minds to pursue their interest in science and use their capacities to solve various local and global problems. Pakistan Science Club is providing an opportunity to Young scientists for expressing their aptitude in National Science & Innovation Fair 2019.
National Science & Innovation Fair 2019 is an exciting challenge for the students of age 12-20 years to participate and display their novel ideas and projects. Participants from all over the country are invited to present and compete their independent research on various fields of science and technology for the solution of local and global problems.
The top three winners of the NSIF'19 will get a chance to participate in China Adolescents Science and Technology Innovation Contest (CASTIC), the biggest science contest of Asia in Macao, China "from July 20 to 26th, 2019".
National Science and Innovation Fair 2019 is a joint venture of Pakistan Science Club and ECO Science Foundation along with more than 20 network partners including International Federation of Inventors Associations (IFIA), Mad lab UK, Khwarizmi Science Society, Pakistan Alliance for Maths and Science and many more.
The competition will not only contribute towards the social development of the participants but will also help them to think in a rational way to explore the possibilities for the betterment of society using scientific concepts and innovative approach.
Event will be held in Karachi on 10th June 2019.
Pre-event workshops of NSIF'19 are already started and will be conducted by 10th May 2019.
For registration and complete details visit PSC website: www.paksc.org/nsif
Last Date of registration is 10th May 2019

The dynamic editorial team of Scientia Magazine.