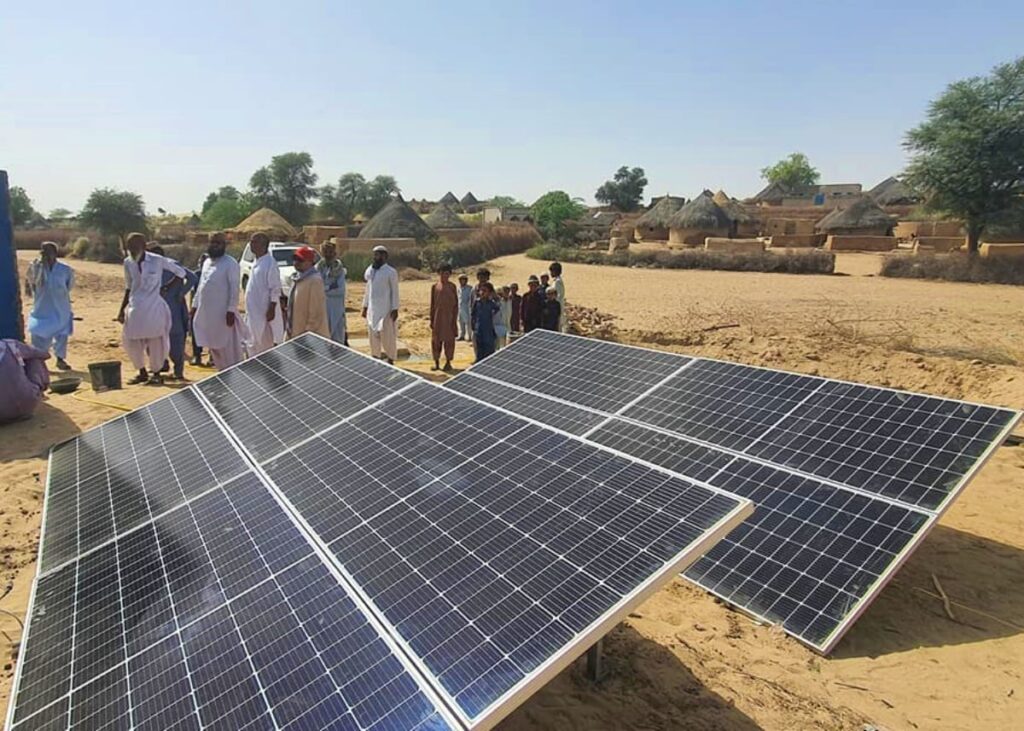 Modern Agriculture Techniques in the Desert of THAR
Dua Foundation is an NGO with small-man-power, struggling to regain the fertility of Thar Desert, once it was known for.
Living in a desert is not easy; it is not always like living in big cities where you can find your favorite foods at your doorstep or at the nearest high street. Lack of facilities and basic necessities of life like health, education, unemployment, scorching weather, and loneliness make the life of its dwellers miserable. The statistics show a slight rise in the death toll of children between 2 to 10 years
owing to several complications like low birth-weight, pneumonia, respiratory distress syndrome (RDS), malnutrition, and diarrhea.
Thar-Parkar is the largest district of Sindh and has Mitthi as its district headquarter. It covers an area of 19,638 square km (7,582 sq mi) with a population of 1.64 million people. It enlists in the 18th largest desert of the world and is considered to be the only fertile one. Enriched with coal, it has the world seventh largest reserve in the world.
However, the limited periods of rainfall due to widespread climate change in Pakistan and mainly in Sindh caused an acute shortage of water for the inhabitants. Once the areas that provided scenic fertile views in the Mon-Soon season, now hardly receive rain in a season.
Here, the rainy season often kick starts in early July and ends in September. In the past, Tharparker and adjacent deserted areas received sufficient rains, so the ponds get enough water for the dwellers for another three to four months when the areas usually received moderate rainfall in the winter. Here the primary water resources are wells with a ground-water-level of 200 feet deep that went even deeper in the last decade due to the dearth of rains.
The situation in Tharparker worsened when the Sindh government failed to provide water in sufficient amounts to meet the local residents' daily requirements. Agriculture gets nearly impracticable when people striving for water to meet the basic necessities of life.
The past governments of Pakistan wouldn't pay attention to the area unless the Thar coal mine project was inaugurated in May 2008. Once the Sindh Engro Coal Mining Company (SECMC) and Thar Power Company Ltd. (THARCO) started generating electricity, the area caught the attention and became the center of attention to the national and international mainstream media outlets. In a short period, several non-governmental organizations shifted their focus to uplift the lifestyle of the residents of Thar. Sindh Engro Coal Mining Company (SECMC) is also working on multiple projects as their corporate responsibility, and a primary project among these is the Bio-saline water irrigation project.
The company planted an area of 10 acres (4.04 hectares) and with 120 Ber (wild-Berries) trees on each acre. The effort was part of the bio-saline agribusiness by utilizing underground water of the third aquifer pumped from a profundity of roughly 200 meters.
The planted trees are watering up to 3500 ppm TDS beneath specialized back given by Pakistan Horticulture Inquire about Committee (PARC), and 120 trees were planted per acre so far.
These plants have started yielding within one year, and each tree has produced an average of 5 to 7 kilograms of fruits. The 120 trees on a land section could provide around 35,000 to 40,000 PKr within the, to begin with, harvest.
Dua Foundation is an NGO with small-man-power, struggling to regain the fertility of Thar Desert, once it was known for. Dua Agro Farm was a constructive idea to turn Thar green, which has now become a reality. With optimism and good faith, these farms are now showing their spring. So far, 45 agro farms have been completed. These successful experiences are creating new sources of employment for Thar residents.
These Agro farms are bored for irrigation and various types of pumps. In case of lack of electricity, solar power cells are also installed, and at the same time, storage tanks are constructed for storing water. The inhabitants of adjoining villages also have access to daily necessities and clean drinking water due to these efforts.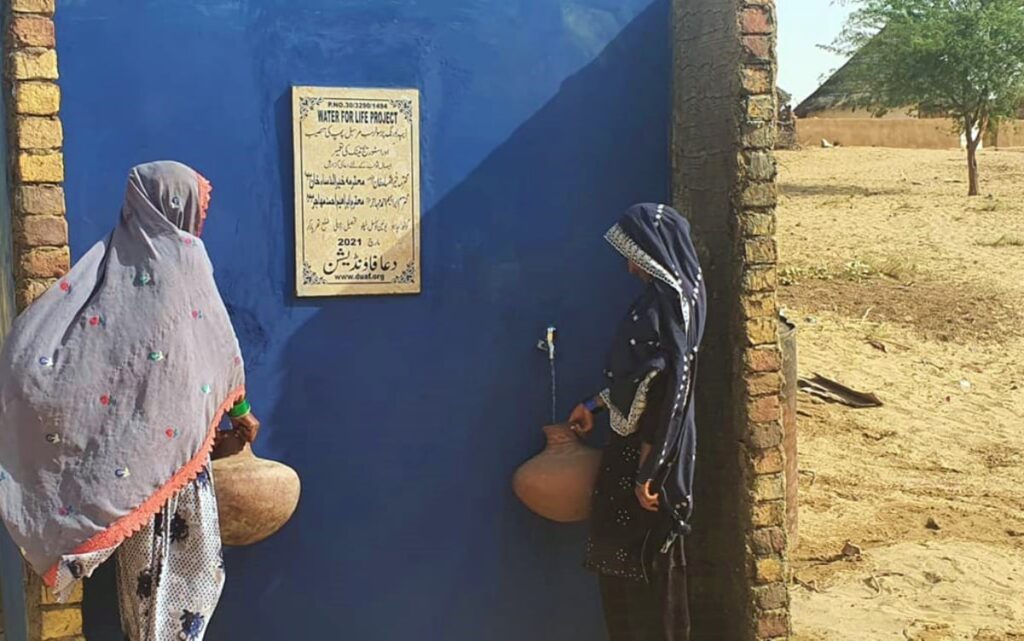 Dua Agro farm has also been set up in Kaloi Tehsil of Tharparkar, in which plants like mustard, Tara Meera, Tomato, Onion, Berry, and Lucerne are being cultivated. Meanwhile, the farm management started some research work, and a few Lotus plants have also planted experimentally in a pond.
In various areas of Tharparkar, Jalebi, Pomegranate, Wheat, Palm, Olive, Lotus, Tomato, Onion, Dragon Fruit, Spaghetti, Cumin Mustard, Tara Meera, Lawson, Lemon, Fig, Mulberry, Guava, Falsa, grains, and other vegetables are planted. Following the successful experimental cultivation of more seasonal fruits and vegetables, a few mega farming projects have been launched.
These farms are not only meeting the food needs but also providing economic autonomy to the villagers. Thus, the Dua Foundation promotes small-scale cultivation of fruits, vegetables, and grains in the Tharparkar area. In addition to preparing the fields, training is also provided to the residents for their maintenance and good yields.
With the help of philanthropists, these agro farms are prepared and handed over to the local communities. The existing wild berries in Tharparkar have also been grafted with good quality berries, and now the branches of these trees look bent under the weight of good quality big tasty, and nutritious berries. Under Dua Foundation, 200 trees of Kahu (Wild Olive) in Dhirkot District Bagh have also been grafted with required quality foreign olives. This will improve the economic situation of the locals.
Pertinent to mention that the foundation had launched a campaign of grafting olives in the country, and after their successful advocacy, Prime Minister Imran Khan also showed interest in it and ordered the authorities to support farmers in it.
Also, Read: Dr. Pervaiz Amir: an insight into the role of water in Pakistan's Agro-based economy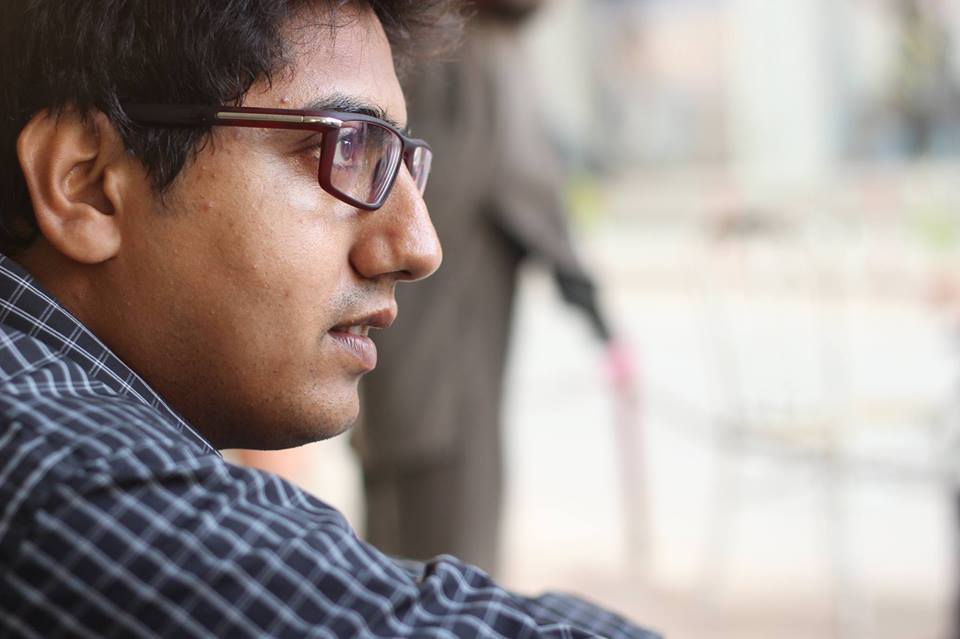 Fawwad Raza is a Digital Journalist and working as a member Editorial team in ARY News. He is History graduate from University of Karachi, blogger and a passionate traveler. He also conducts various training sessions of digital Journalism for students and working journalists.