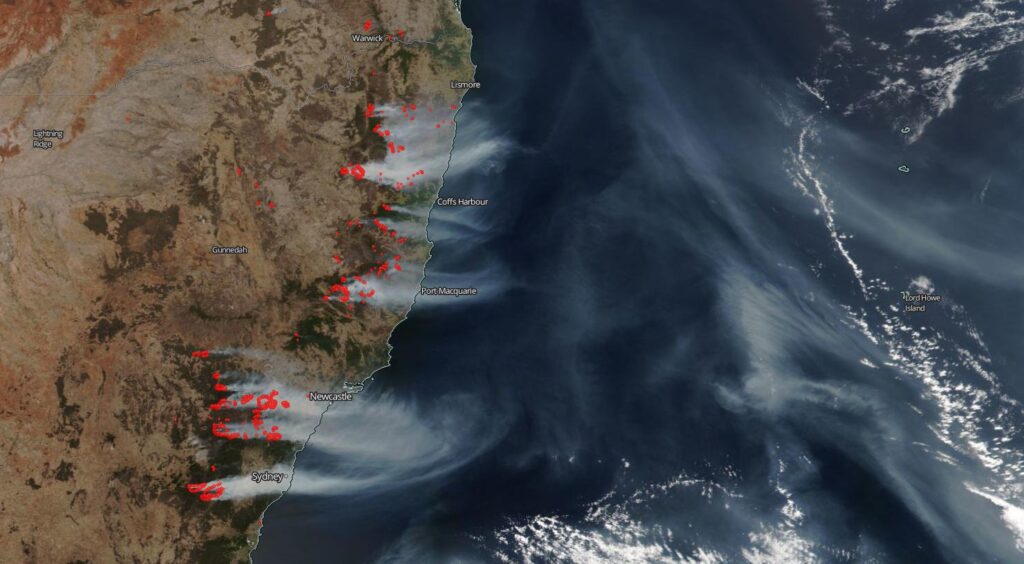 Nasa's contribution to Wildlife preservation
General satellite imagery is also known as Earth observation imagery or spaceborne photography. These are images of Earth or other planets collected by imaging satellites operated by governments and businesses. The importance of satellite imagery is the technological advances and increasing availability of high-resolution satellite imagery offer the potential for more accurate land cover classifications and pattern analyses around the world. Being a world-class organization, NASA strives to conserve and protect natural resources through great habitat and species management programs.
NASA strives to promote the increased efficiency of raw materials and the conservation of natural resources. These resources include land use, wetlands and floodplains, threatened and endangered species, wildlife, ecosystems, oceans, and coastal zones. Natural Resources Management ensures that NASA makes efficient use of natural resources while protecting the environment and valuable wildlife. This management further allows NASA to conserve precious natural resources for future generations.
NASA's satellite instruments
NASA's satellite instruments are often the first to detect wildfires burning in remote regions, and the locations of new fires are sent directly to land managers worldwide within hours of the satellite overpass. Together, NASA instruments detect actively burning fires, track the transport of smoke from fires, provide information for fire management, and map the extent of changes to ecosystems, based on the extent and severity of burn scars. NASA has a fleet of Earth-observing instruments, many of which contribute to our understanding of fire in the Earth system.
Satellites in orbit around the poles provide observations of the entire planet several times per day, whereas satellites in a geostationary orbit provide coarse-resolution imagery of fires, smoke, and clouds every five to 15 minutes. NASA satellites can show the movement of the smoke across the globe as evidenced above, but other instruments found onboard can give scientists, firefighters, health experts, local government, and others information about what is happening on the ground in real-time.
How NASA contributes to global wildfire detection
Wherever fires are burning around the world NASA-NOAA's Suomi NPP satellite's Ozone Mapping and Profiler Suite (OMPS) can track the smoke and aerosols. Suomi's OMPS tracks the health of the ozone layer and measures the concentration of ozone in the Earth's atmosphere and can detect aerosols. Ozone is an important molecule in the atmosphere because it partially blocks harmful ultra-violet radiation from the sun. OMPS data help scientists monitor the health of this vital protective layer. On Sept. 13, 2019, data from OMPS revealed aerosols and smoke from fires over both South America and North America.
Fires in South America generated smoke that continues to create a long plume east into the Atlantic Ocean. Fires over western Brazil were generating aerosols at a level 2.0 on the index. Higher aerosol concentrations, as high as 4.0 were seen off the southeastern coast of Brazil as a result of the fires in the region.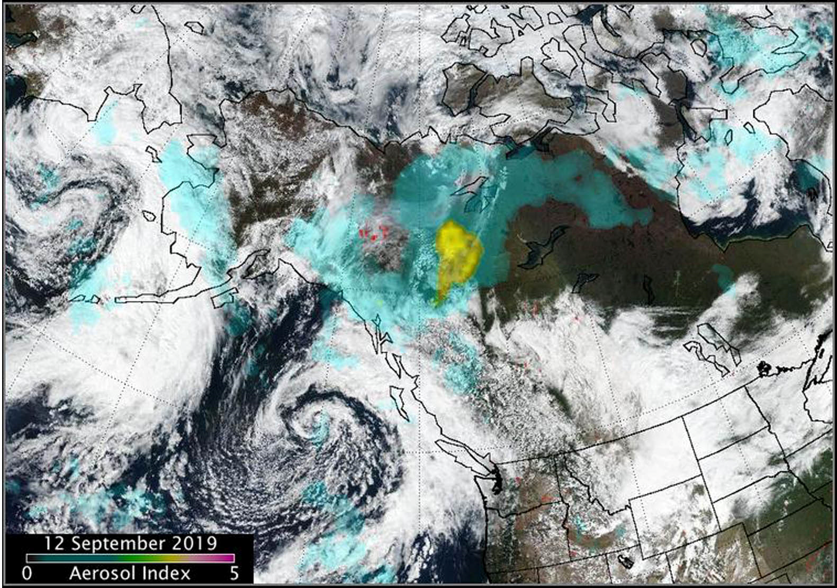 In North America, Suomi NPP's OMPS detected smoke and aerosols from fires over Canada's Yukon Territories. Aerosol concentrations were very high over the Yukon fires due to a pyrocumulus event that occurred on 11 September. The image also shows a low-pressure system (the area of spiraled clouds) off the coast of western Canada.
Tracking and detecting Australia's Bushfires
NASA scientists using data from its NOAA/NASA Suomi NPP satellite have traced the movement of the smoke coming off the Australian fires across the globe showing that it has circumnavigated the Earth. Suomi NPP carries carry five science instruments and is the first satellite mission to address the challenge of acquiring a wide range of land, ocean, and atmospheric measurements for Earth system science while simultaneously preparing to address operational requirements for weather forecasting. Suomi NPP also represents the gateway to the creation of a U.S. climate monitoring system, collecting both climate and operational weather data and continuing key data records that are critical for global change science.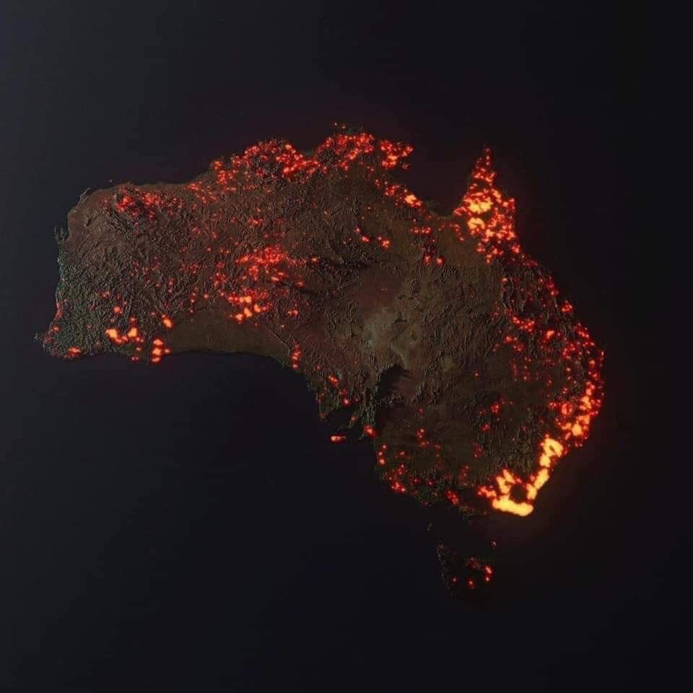 In an image taken on Jan. 13, 2020, the Suomi NPP satellite used the reflectance bands on the VIIRS (Visible Infrared Imaging Radiometer Suite) instrument to clearly show the areas that have been affected by the fires (dark brown to black) alongside areas not burned (appearing green to bright green). These reflective bands can also be used to show the "height" of clouds since clouds lower to the ground appear whiter and clouds higher in the atmosphere appear bluer to aqua since the ice crystals within the clouds reflect a bluer color using this instrument. Just changing values on a satellite instrument can give those on the ground information they would not have any other way. The image below shows the burned areas, clear areas, and clouds.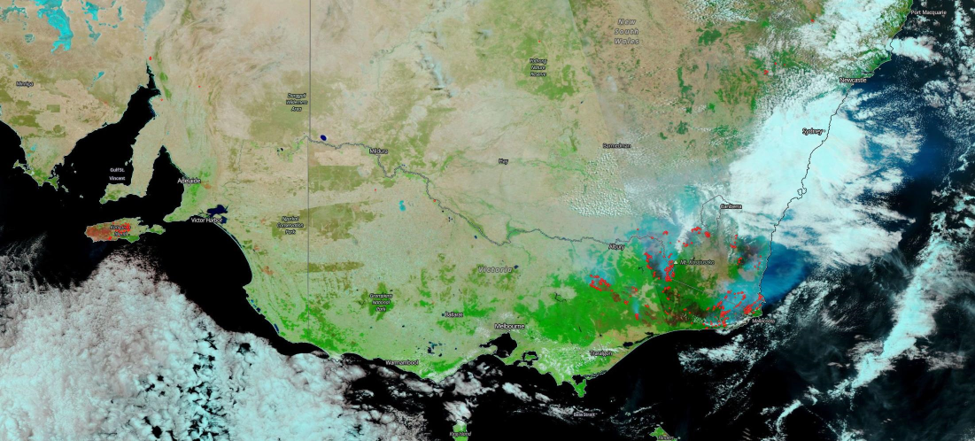 In Australia, an estimated 1 billion animals killed. Many wild animals and some farm animals have been killed directly by the flames. Other animals have not been burned alive but have faced death due to the destruction of their natural environment, which they rely on for food and shelter. This is a crisis for biodiversity in Australia, which is home to some of Earth's most distinctive animals, like marsupials.
NOAA meteorologists incorporate Suomi NPP data into their weather prediction models to produce forecasts and warnings that help emergency responders anticipate, monitor and react to many types of natural disasters, including the bushfires plaguing Australia currently. Suomi NPP serves as an important link between the current generation of Earth-observing satellites and the next generation of climate and weather satellites. It observes the Earth's surface twice every 24-hour day, once in daylight and once at night. In its orbit Suomi NPP flies 512 miles (824 kilometers) above the surface in a polar orbit, circling the planet about 14 times a day.
The satellite sends its data once an orbit to the ground station in Svalbard, Norway and continuously to local direct broadcast users. The data collected by Suomi NPP can help save lives. One-third of land on an Australian island that is a refuge for some of the country's unique and endangered wildlife has been scorched by raging bushfires, NASA satellite images show the extent of fire damage to Kangaroo Island in the state of South Australia was captured by NASA's Terra satellite. NASA estimates that 155,000 hectares (600 square miles) of the island have been consumed by fires, calling it "an ecological tragedy". NASA saved 90,000 animals.
Satellites used by NASA saved many lives not only humans but animals as well. The data collected by satellites can save lives within minutes. Satellite imagery helps to save every living being around the globe. More missions focused on satellite imagery for prediction and modeling wildfires are needed to avoid catastrophes.
Also Read: The emergence of the deadly Coronavirus
Eruj is a Space & Astronomy enthusiast pursuing an MSc degree in GIS and Remote Sensing at Karachi University. She is the Management team member & Head of Social media at RaheQamar's Karachi chapter. Eruj is the founder of the Society of Astronomy and Space Technology (SAST) and an active member of the Arts & Culture Society of Karachi University.