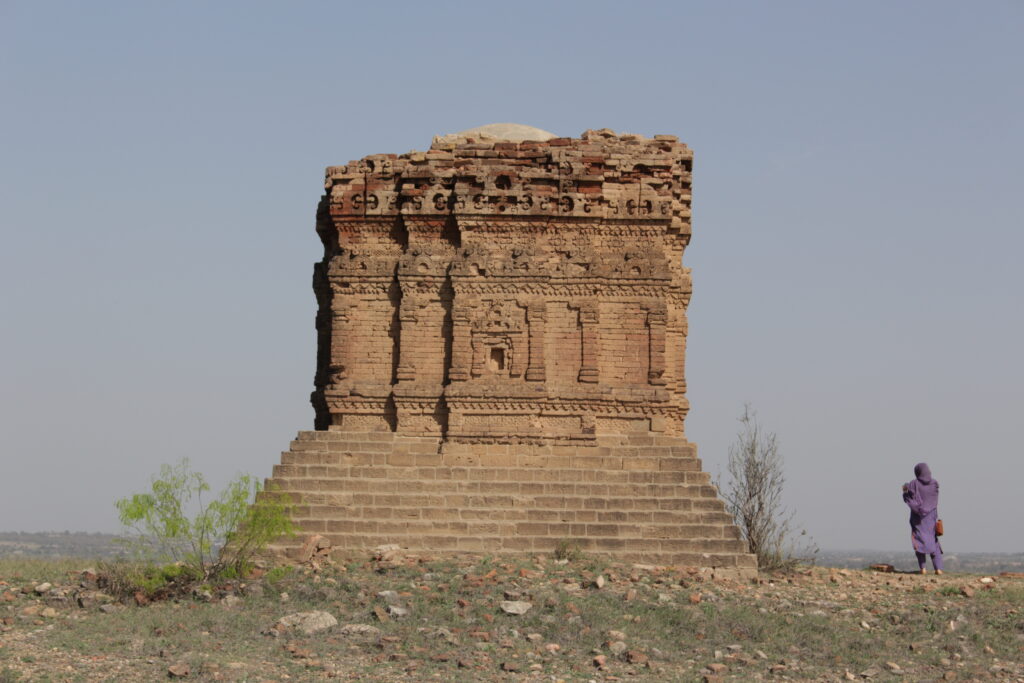 Pakistan's Crumbling Hindu Heritage: Our Shared Culture and Responsibility
Pakistan possesses a rich cultural heritage and has been a cradle of ancient civilization and culture. Our country represents a proud legacy of stone-age culture, Indus Civilization, Gandhara Civilization, and Muslim Civilization. The presence of the relics from these periods makes the country unique. Pakistan has been the custodian of some very sacred Buddhist, Hindu, and Sikh heritage sites that attract tourists from all over the world. But unfortunately, these places have suffered badly at the hands of natural disasters and human vandalism.
Therefore, it is essential to draw attention to the Hindu heritage in Pakistan, which is crumbling with passing time and is likely to disappear very soon. Hindu remains in Pakistan are part of the culture and heritage that we share with our eastern neighbor India. Since these sites are in our possession, it is our responsibility to look after them and keep them from further deterioration.
The word "Hindu" is derived from the word "Sindhu" (Indus River), which was used for the first time by the Persians for "the land of River Indus." The region was named Al-Hind by the Arabs, and the inhabitants of this region were mentioned as Hindus. Hence the term "Hindu" actually signified the people living in the land of river Indus, and the religion that they followed came to be called Hinduism by the orientalists in the 19th century.
Hinduism is one of the world's ancient religions, and its origin can be tracked down to the Bronze Age (2500-2200 BCE) during the mature phase of Indus Valley Civilization. It is the blend of several beliefs and practices, lifestyles, and thinking connected by a cultural continuity and unified force that characterize Indian Civilization. Swastika, Pashupati (Lord of Animals), and proto-Siva symbols relate this civilization to the Hindu symbolism, which took a final form of a religious belief during the Vedic times. It is believed that Rig Veda, the earliest text of Hinduism, was composed in the northwestern region of the Indian Subcontinent (Pakistan).
Temple is the most typical artistic expression of Hinduism, focusing on the spiritual and social life of the Hindu community. The temple indicates the values and way of life of those who erected it and for whom it was built to maintain a relation between man and gods. The divine becomes visibly manifest in the Hindu temple and reachable to man. Hindu temple is considered as the house of god serving as a representation of ultimate enlightenment. Temples have been built throughout Asia during different periods and continue to be built in Hindu dominant regions.
Hindus are a religious minority in Pakistan, and they form 1.6% of the total population of the country. The percentage has fallen from 14.6% that was before partition. The shrinkage in the Hindu population in due course has led to the neglect of Hindu sacred architecture. At present, Pakistan has negligible Hindu inhabitants, and hence their holy spaces are generally abandoned and are in bad condition. This is not the only cause; numerous other factors are responsible for the present state of Hindu's sacred buildings in Pakistan. Most of the temples had been prey to vandalism as a reaction to the Babri Masjid incident in Ayodhya, Indian, on 6th December 1992. Many were set to fire; others were damaged by the enraged vandals as a reaction. This incident had profound aftereffects on the overall conditions of Hindus in Pakistan and their sacred buildings. The subsequent wave of vandalism of Hindu remains caught a deadly blow during a recent surge of extremism, which, regrettably, transformed the temples into schools, stables, or trash houses. Nearly all, if yet not affected by the above reasons, are prone to the effects of various kinds of environmental pollution.
Pakistan embraces a reputation of owning some famous temples that are renowned due to many reasons. A few are acknowledged for their mythological association like those present in Katas Raj Complex in Chakwal district, Hinglaj Mata temple in Lasbela district of Balochistan, and Sri Punchmukhi Hanuman Temple in Karachi. Several owe their fame to their affiliation with significant personalities or specific activities like Tilla Jogian in Jhelum district and Gorakhnath temple in Gorkhatri, Peshawar, both dedicated to Guru Gorakhnath, while others like Mallot temple in Chakwal, Amb temple in Khushab, and Shawala Teja Temple in Sialkot, etc., have attracted the attention of the tourists and art lovers due to their distinct styles of art and architecture. Almost all of them are in a dilapidated state, and if not protected, will disappear in the coming years.
For the last few years, the Government of Pakistan is working for the protection of some important temples in the country. Steps have been taken for the functioning of some temples too, which is indeed very encouraging. Many temples across Pakistan have already faded during the past few years. They were investigated and documented a few years back, but now they have vanished completely.
Pakistan was established for a group of people with a common religious belief who were discriminated against and kept deprived of equal rights. Their sacred places were not safe, and their mosques suffered from vandalism at the hands of Hindus and Sikhs. Pakistan, a country founded in the name of Islam, which is the religion of peace and harmony, was never supposed to repeat the same mistakes. This Pak (pure) land is meant for all its citizens, whether Muslims or non-Muslims, and it is the responsibility of all of us to protect and take care of the religious buildings present in every nook and corner of our country as if it is our own sacred space.
Undoubtedly, there is a genuine need for their protection and preservation for the best utilization of memorable Hindus Architecture. The authorities should take steps for the protection, preservation, and conservation of this shared heritage, which represents our past rich culture, to pass it to our generations on which they could be proud of. Their preservation is obligatory not only for their survival for our future generation but also for imparting a strong message to the world that Pakistan does not support extremism at any cost, and Pakistanis care for the sacred structures of every religion.
A few suggestions and recommendations to the authorities are that the significant temples of the country should be protected through conservation, after which measures should be adopted for a safe environment (fencing, etc.), master planning, environmental development (shelter). Restoration of the temples which are structurally collapsed is promptly needed. Establishing the open-air museum is recommended for the safety of temples which are rich in architecture.
Hindu temples in Pakistan are rich in architecture, and these present an intriguing view to the tourists as well as to the devotees. The management and restoration of them could lead to the development of religious and cultural tourism in the region. Their restoration and preservation will attract Hindu pilgrims from all over the world, which would not only develop tourist activities in the region but also nurture interfaith harmony in the country. Tourist activities in the region will result in economic growth and also create a soft image of Pakistan.
Also Read: ARCHEOLOGY AND PUBLIC'S INTEREST
Dr. Kiran Shahid Siddiqui is an Assistant Professor in the Department of History, University of Karachi. Her field of expertise is Gandharan Studies. Dr. Siddiqui has participated in several national and international conferences and published papers in journals of national and international repute.