Rare 'Alpha Monocerotids' shower predicted this week
Get ready stargazers! A rare meteor shower i.e. Alpha Monocerotids, is expected this week (between the nights of Nov 21-22).
The prediction has been shared by scientists from the SETI Institute and NASA's Ames Research Center who along with other fellows calculated the estimated time and distance of the outburst. The provided time is 11:50 pm ET (or 04:50 UT) and the shower will be the brightest at 15 minutes. The total expected time is 40 minutes. The best views will be in South America, Western Europe, etc.
The first time the Alpha Monocerotids was observed in 1925 in Virginia. Witnesses saw "three bright meteors" within a minute and noticed and marked its location around the Orion constellation. It was later observed in 1935 in India and almost 100 meteors were counted in a span of around half an hour. And they have observed quite sometimes in the skies around the world.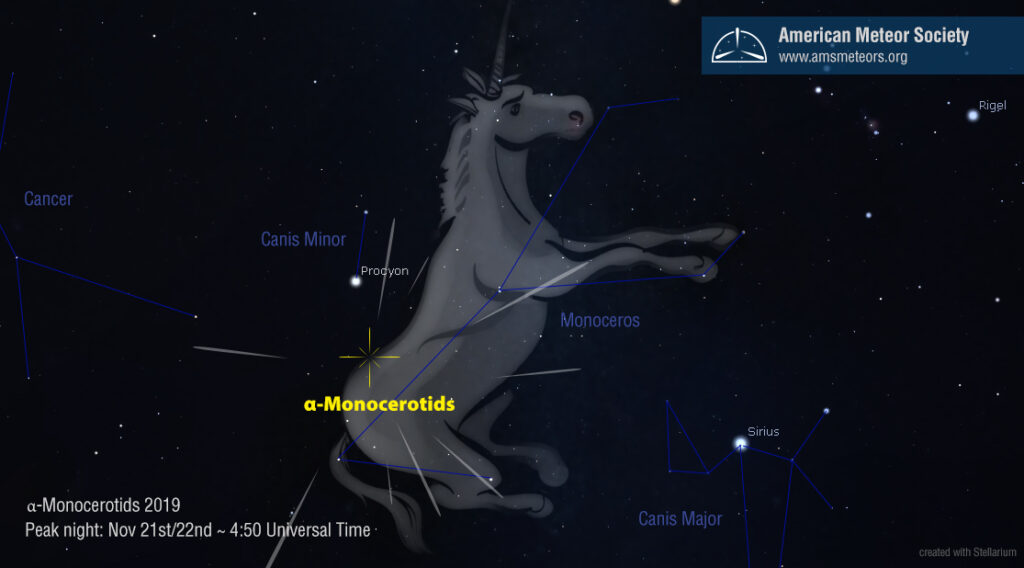 The original source of Alpha Monocerotids is relatively unknown but their orbital period has been found to be of around 600 years. It might have left a trail and some of it is thought to be completing its first revolution around the sun.
What makes it so rare is the fact that the torrent only goes around the orbit of the Earth sometimes and this year, the conditions are similar to those of 1995 when it occurred, igniting hope in scientists that maybe we can witness it in 2019 as well.
To enjoy the expected Alpha Monocerotids shower, pick out an open location where you can have a good view of the sky to increase your chances. Don't forget to prepare for the winter breeze, if you live in an area that has welcomed the season. One might be lucky even if one doesn't own a telescope because this expected show is so bright, there is no need for any special equipment to marvel at it.
Also Read: Marvel at the latest alpha capricornids meteor shower
The Dynamic and Energetic team Scientia.