Stephen Hawking's Life through Pictures
Stephen Hawking led an incredible life and provided an amazing service to science. He inspired millions and made an undeniable impact not only among the scientific community but around the world. Here are a few glimpses of his marvelous life.
This is a picture of young Stephen Hawking. He studied natural sciences at Oxford and after receiving his B.A. in 1962, he went to Cambridge for graduate studies in Physics. He initially worked with his friend on the role of singularities in general relativity and later pursed and immortalized new concepts of space and time.
Hawking in 1985. After he was diagnosed with ALS, a motor neuron disease, he used a special electric wheelchair equipped with new technologies for locomotion.
Hawking, on left, pictured in 1985, with his family in Cambridge, England. He married his first wife two years before he was diagnosed with the disease. Here, their two children are seen enjoying a cookout.
Professor Hawking pictured with his family arriving at Cambridge to receive an honorary degree awarded to him for his services to scientific research.
Pictured in Cambridge. Stephen Hawking is seen here in the Trinity College Lawn.
Hawking best selling book was published in 1988 called A Brief History of Time. He brought theories of black holes, space exploration and cosmology to a wider audience around the world. It has sold more than ten million copies and continues to break records.
In 1992, he appeared on the radio show called Desert Island Discs with Sue Lawley. He talked about his scientific interests and favorite desserts.
Stephen was extremely fond of Television and movies and appeared in many famous shows. Here, he is seen in an episode of Star Trek: The Next Generation. He also made cameos in The Simpsons, The Big Bang Theory, Futurama etc.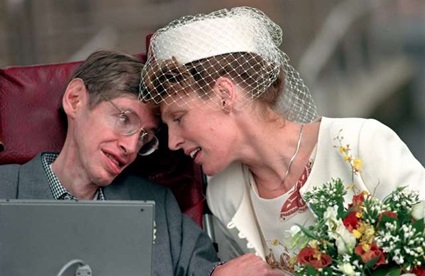 In 1995, Stephen Hawking married his nurse Elaine Mason, five years after his divorce from his first wife. His second marriage continued for 11 years and they got divorced in 2006.
In 1998, Hawking was invited at the White House by the [then] President Bill Clinton, for an event in which he discussed prospects and developments in science during a live telecast.
Hawking received the Albert Medal from Prince Philip of Britain in 1999. The Royal Society of Arts awarded him for popularizing physics among the general audience. He was also awarded CBE which is one of the biggest civil honors in Britain.
Hawking is seen here attending a lecture in Free University, Berlin in the year 2001. He gave many lectures and talks around the world throughout his life.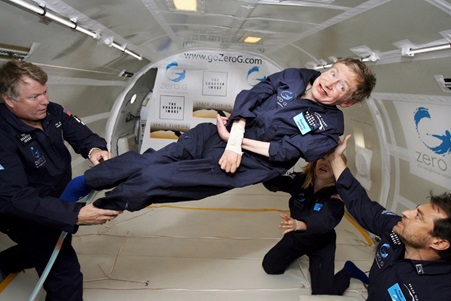 In 2007, Hawking experienced zero gravity in a US institute and was captured all smiles and happy. He always talked about never limiting himself because of his condition.
On April 21, 2008, Hawking gave a lecture for NASA on its 50th anniversary. His daughter also served as a moderator for the event.
President of the United States of America, presented him the Presidential Medal of Freedom in 2009 which is a big civilian honor.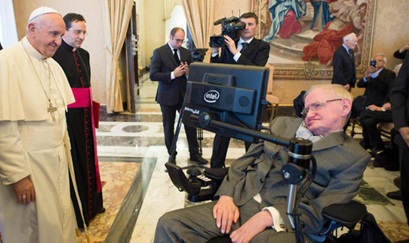 He met with Pope Francis in Vatican City before a session at Pontifical Academy of Sciences. Although he was a known atheist, he still discussed the ideas of God and religion during many lectures. Stephen Hawking tries to teach POPE origins of the universe in an awkward meeting of minds.
Hawking is pictured here giving a speech during the opening ceremony of Paralympics in London in the year 2012.
Stephen Hawking is seen here meeting the Queen at a disability charity in 2014.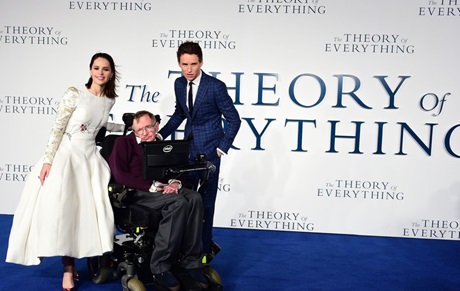 In 2014, a film based on his life was released called The Theory of Everything. Here, he pictured with the leading stars Eddie Redmayne and Felicity Jones. Stephen Hawking delighted at Redmayne's Oscar for The Theory Of Everything.
After an astonishing career and life, Stephen Hawking passed away on March 14, 2018. His funeral service was held at Great St. Mary's Church.
Maham Maqsood is the Managing Editor at Scientia Pakistan. She has done her Bachelors from Quaid-i-Azam University in Biochemistry. An avid reader and a freelance writer, Maham has worked for several organizations including Globalizon and MIT Technology Review Pakistan.