A look at top researches on viruses
Viruses are pathogenic particles containing genetic material known as the core, which is surrounded by a protein coat called a capsid. They are metabolically inert nature because they lack the enzymatic machinery, which is necessary for the production of viral proteins. It compels them to live, reproduce, and survive only inside the host body. They are tiny in size ranging from 20 to 300 nm and can only be studied through an electron microscope. Broadly they are categorized into two types based on their genome, either DNA viruses or RNA viruses. Since viruses are infectious and are involved in causing several diseases in living organisms, scientists are doing extensive research to understand all aspects, including their structure, classification, evolution, and interaction with host organisms for their survival through disease causation. Viruses have been studied under the field of biological sciences termed as 'Virology.' The following are some of the top researches on viruses.
Coronavirus
Firstly, the biggest problem that the whole world is facing nowadays is COVID-19 pandemic. Scientists have been working continuously in laboratories to find an efficient and effective vaccine against the Coronavirus. Recently, genetic sequencing on viral samples of Italian patients has been performed by two groups of scientists from the National Institute of Infectious diseases and Forensic Division of the Department of Biomedical Sciences and Public Health in Rome and Ancona University respectively. Already sequenced sample of the virus taken from the original city of the outbreak, Wuhan, was considered as a reference genome for comparison.
Results of the comparison showed that genetic variation between two viral samples was minor with the appearance of only five new variants in the later Italian samples. Researches have revealed the slow mutation rate of the Coronavirus. Concludingly, it's good news, especially when we are familiar with the quick rate of mutation in most of the viruses, that has always remained one of the most significant challenges during vaccine development. We are hopeful that whenever the vaccine is introduced, it will be effective broadly.
Herpes simplex virus type 1
Herpes simplex virus type 1 (HSV-1) affects 80% of young adults throughout the world. Its symptoms include mainly cold sore and, in some cases, encephalitis. Inflammation in the brain can become fatal if it remains untreated. Virologists from two of the Chinese universities have infected mice and human nerve cell lines with HSV-1 for in-vitro experimentation. High expression of Egr1 cellular protein was observed in both cell lines and brains of mice that were infected earlier. When the levels of Egr1 protein was decreased by using different methods, it reduced the number of mice deaths by decreasing encephalitis condition and viral load. The blockage of this particular protein can be a new approach for preventing encephalitis during viral infection based on this research.
Simian virus 40
Simian virus 40 (SV40) is a DNA virus having the capacity to cause tumors in animals. It had been used as a model eukaryotic virus for studying DNA replication and transcription processes. It attaches itself to lipids instead of binding to a protein receptor in the plasma membrane of the host. After understanding their way of interaction with the host, virologists discovered their unique behavior of using fats as a source for communication. The virus creates connections with a huge number of fat molecules, which causes a change in the shape of the host's plasma membrane. This deformation favors endocytosis of virus molecule through vesicle formation that buds off inside the cell favoring its entry. The deformed membrane holds the virus tightly in such a way that there remains hardly any space between them. In this way, it ables to exert a strong force on the host's membrane without seeking help from any of the cellular proteins.
The figure below shows the entry of the virus through its binding to the host cell receptor on the plasma membrane called ganglioside GM1. This event triggers the formation of an endosome that leads the virus towards endoplasmic reticulum from where it breaches the membrane to release itself into the cytoplasm. It further moves to the nucleus and releases its genome. Then it starts using host machinery for the production of its genome and causes infection ultimately.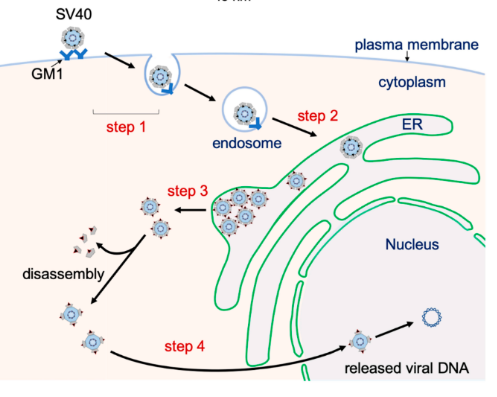 Hepatitis C virus
As we all know, the hepatitis C virus (HCV) causes hepatitis C that leads to liver infection. It results in liver cirrhosis and liver cancer in case of chronic infection. Global numbers can assess the severity of a disease according to which it affects 1% of the population per year. The HCV diagnosis method used currently involves two stages. The first step is to find specific HCV antibodies, and the second step requires a PCR1 assay for the detection of the presence of the viral RNA in the blood that confirms chronic infection. The major problem is its early diagnosis in some asymptomatic patients with traditional screening methods that are limited and expensive in developing countries.
According to the researches of 2018, a team of scientists developed a less costly assay in collaboration with the company 'Genedrive.' This new device allows PCR to be performed, enabling the necessary completion of 40 cycles more quickly than in a conventional platform. The analysis can be completed in approximately an hour. Assay's performance and authenticity were checked in the institute of France and the National Health Service UK. Results showed 100% specificity with no false-positive results.
Also Read: OPINIONS: Fearful of COVID19? "NO"
Amna is a student of Bio-Chemistry at Quaid e Azam University Islamabad. She is an active member of Quiadian debating and literary society. Her hobbies are reading and painting.