A Tour to Spellbinding Wildlife Moments of 2021
Here are a few animal discoveries that got attention in 2021.
Earth is an incredible place, bursting with wonders and mysteries. Researchers and wildlife photographers continue to show us how amazing life on our planet really is. In 2021, amid increasing climate changes, disasters, and the urge to social distancing due to COVID19, when sometimes coverage of new science discoveries seems impossible, researchers mesmerized us with some astounding news.
Here are a few animal discoveries that got attention in 2021.
Sea slugs
Some of these creatures have the astounding capability of detaching their head part from their bodies, and then the head grows a new body. Most slugs do this when their previous body has been infected with life-threatening parasites.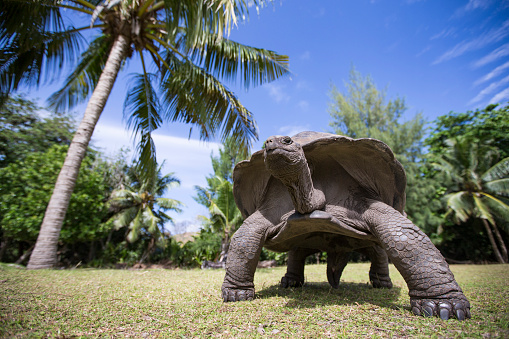 Giant tortoises
These animals may look subtle and soft from their appearance, but they can prove you wrong once hunting is concerned. A video shows their savage behavior as a tortoise chomps down a baby bird fell to the ground. An interesting fact about tortoises is that they are solitary roamers, which means they become independent of their mother as soon as they hatch and explore the world all by themselves.
Elephants
Somehow these animals look gigantic and clumsy, but they can use their trunks extremely tactfully and with cunning dexterity to do basic tasks like picking up things or twisting things, etc.; their trunks might look big and powerful. Still, they can manage to hold and pick up small and delicate things without damaging them. The elephants' trunks have almost 40,000 muscles, making it their main organ for smelling, breathing, touching, and grabbing things.
The Bird with the Broken Beak
A parrot named Bruce captured our hearts with its charm this year. Despite his beak being broken, he has learned to cope with life by using several different tools to help himself. An example is how he scraps hard food against other objects to soften it and make it easier for itself to eat.
Naughty thieves
Birds are literally always on the hunt for anything they can find to build their nests. From twigs and leaves to tiny pebbles and straws, they can use almost anything for building their homes. One such group of birds called Pharids stole hair from dogs and inculcated them in their nests!
Also, Read: What's the worth of life for zoo animals?
Aniqa Mazhar is a graduate of QAU in Biochemistry. She has taught sciences to O levels and is currently planning for her MS in Food Technology. Aniqa's hobbies are reading, watching movies, writing, calligraphy, long walks, and nature photography.