After the floods comes disease: IDP camps in flood-hit Pakistan
The short-term devastation of Pakistan's horrendous floods is now giving way to long-term impacts, as disease and ill-health begins to spread among the country's displaced persons camps.
On a scorching afternoon in September 2022, Ali Haider Sehriyani reaches the relief camp in Usta Mohammad with his son's dead body. Three-year-old Ali Waris Jamali, like most children in this IDP camp, had been suffering from malaria.
Ali Haider is a resident of Usta Mohammad, a severely flood-affected district in Balochistan. The level of destruction means the relief camp for displaced people at the bank of the Saifullah canal is already full.
According to a recent report, more than six thousand people, including children, have been affected by malaria in Balochistan's Jafferabad and Usta Mohammad.
Ali Haider Sehriyani says that the flood wasn't as traumatic as its aftermath. "We are losing three to four kids daily due to malaria, diarrhoea, dengue, and skin diseases. The relief camp has a dearth of medicines and other mandatory medical facilities to save our children," he says.
Pakistan is experiencing its worst humanitarian crisis of a decade, spurred by torrential rains and devastating flash floods. This was the most widespread flooding in the 73-year history of Pakistan, leaving one-third of the country under water and parts resembling a small ocean.
Sindh and Balochistan provinces are severely affected; nearly 6.4 million people need immediate support. In most rural parts, people are still forced to live under open skies waiting for relief goods and shelter.
More than 300,000 houses have been entirely destroyed by the rains and floods, and livelihoods have been decimated as two million acres of farmland have been adversely impacted. Some 735,000 livestock perished, causing threats of severe food insecurity in the coming months.
About 650,000 pregnant women are living in IDP camps around the country; among these, around 100,000 pregnant women are in Sindh. And almost 73,000 women have delivery dates of next month; they urgently need skilled birth attendants, new-born care, and financial support.
Dua foundation is a Karachi-based philanthropic organisation that has been serving the rural and urban parts of Sindh for over a decade. Its General Secretary, Dr Fayyaz Alam, says that a large area is still under water, and people are forced to live in tents, camps or self-made shelters (chapters).
"Massive flooding is giving rise to the mosquito population, with water ponds serving as their breeding grounds. I recently visited district Dado, Johi, and other areas and witnessed a potential human catastrophe if it's not appropriately and immediately dealt with. There is a severe shortage of clean drinking water as the government has provided one water filter pump to the whole district population. The contaminated water is giving rise to malaria, diarrhoea, dehydration, dengue, respiratory, lung, and kidney cases at the IDP camps," Dr Alam adds.
Infections haunt IDP women and children
According to Care Pakistan's country director, Adil Sherazi, the floods severely affected women, girls and other vulnerable groups. Marginalised communities of Pakistan are facing the most significant challenge, including access to humanitarian assistance.
The UN Population Fund's recently released data shows that nearly eight million women and girls of reproductive age are affected, with 1.6 million needing immediate healthcare facilities. About 650,000 pregnant women are living in IDP camps around the country; among these, around 100,000 pregnant women are in Sindh. And almost 73,000 women have delivery dates of next month; they urgently need skilled birth attendants, new-born care, and financial support.
Another statistic shows that every sixth child in IDP camps across Pakistan is suffering from malnutrition, malaria, and skin diseases. According to Save the Children Country Director Khurram Gondal, children are the most vulnerable to extreme weather events which are becoming more dangerous due to the climate crisis. Children in flood-affected areas of Pakistan urgently need more support from the international community.
The extent of relief efforts
According to the lead of the Agha Khan University flood response task force, Dr Adil Haider, providing healthy food, clean drinking water, mosquito kits, and healthcare facilities to IDPs are the top priorities of local authorities in the relief work.
AKU's healthcare camps and mobile units in flood-affected areas have provided care to more than 52,000 people in 18 districts of Sindh and Balochistan. Among them, 1,650 were pregnant women, and 1,300 were children under five. Dr Haider adds that that some 37,000 children have received their routine vaccination so far.
Qaisar Khan Afridi, a spokesman for UNHCR Islamabad, says that as a part of a coordinated response, UNHCR has provided refugee villagers more than 71,000 emergency relief items, including camps, sanitary products, solar lamps, and sleeping mates.
"Additionally, we delivered 10,000 sacks to help households build up defences around their homes. UNHCR is also mobilising its female staff nationwide to ensure there is support for women and children among flood affected population," Afridi adds.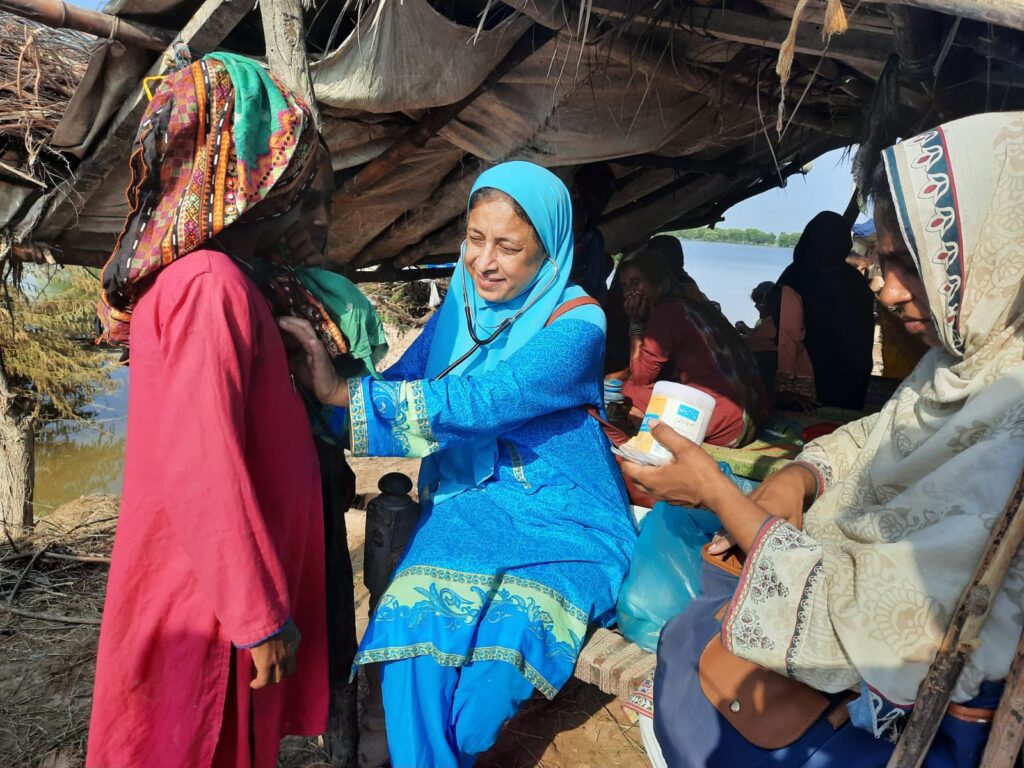 Dr Sadiqa Fayyaz is a Karachi-based gynaecologist assisting Dua foundation in its relief efforts along with child specialist D Sultan Mustafa. She says that there is a severe shortage of camps and medicines in district Dado.
'Dua Foundation has delivered nearly 20,000 camps, ration bags, and 5,000 mosquito-saving kits. We have also organised two medical camps and are trying our best to facilitate IDPs. A large number of people have received financial aid under the government-led Ehsaas program, but this amount is inadequate compared to the extent of the destruction," says Dr Sadiqa.
This is another challenging time for healthcare workers in Pakistan after successfully battling against the COVID-19 pandemic.
Dr Haider says, "Agha Khan University is organising free capacity-building sessions for healthcare workers. We have designated special sessions for lady health workers performing their duties in flood-affected areas as they have to deal with delivery cases in the coming months. To date, around 4,000 workers have attended sessions from around the country."
Clean drinking water for flood-affected areas
Three weeks after the floods wreaked havoc in Pakistan, rural parts of Sindh and Balochistan are still submerged in one to two feet of water. These areas are the hub of viral diseases due to a severe dearth of clean drinking water. The Advanced Centre on Water Research at Mehran Engineering University Jamshoro has found a novel solution to this problem.
Dr Rasool Bux Meher, with his team, has created a low-cost water filter pump that is easy to use. According to Dr Meher, initially, his team worked on 1,000 demos on an emergency basis and provided them to the highly vulnerable districts of Sindh. Faisal Mubarak, another engineer from Sindh, has manufactured a similar portable water filter pump, and like Dr Meher, Mubarak is looking for start-up funding for widespread distribution across the country.
"Pakistan has a long way to go to recover from the current crisis and prepare for future disasters. The international community is doing its part in short-term relief efforts, but for long-term rehabilitation, Pakistan has to work on solid plans and an effective disaster management policy," concludes Dr Alam.
Note: The article is originally published at Gavi, The Vaccine Alliance, and reshared (without changes) with the permission of the author.
Saadeqa Khan is the founder, CEO, & Editor-in-Chief of Scientia Pakistan. She's a member of the Oxford Climate Journalism Network (Second Cohort) and NASW. Saadeqa is a fellow of NPF Washington, The Falling Walls Foundation, and the Science Journalism Forum. Saadeqa has won several international journalism grants and awards for her reports.