Is cloud seeding effective in combatting drought?
Cloud seeding is used regularly in fighting forest fires, creating hail, and diverting rainfall in critical situations.
Harnessing the ability to control the weather may seem like the stuff of science fiction. Yet, a commonly used weather modification technique that has been around since the 1940s claims to do just that.
As its name indicates, cloud seeding aims to improve the amount of rainfall by interfering in the rain formation processes of certain clouds at the microscopic level. Glaciogenic cloud seeding employs the use of particles of silver iodide, among others, to supercool water molecules within clouds, pushing them to clump and freeze. In warmer clouds, Hygroscopic cloud seeding uses other salt-like hygroscopic materials to bring water vapor together to produce rain.
Cloud seeding is used regularly in fighting forest fires, creating hail, and diverting rainfall in critical situations. In recent times, cloud seeding has been explored as a potential tool to provide rain in drought-stricken areas. However, the fact is that cloud seeding programs' effectiveness has been historically challenging to establish.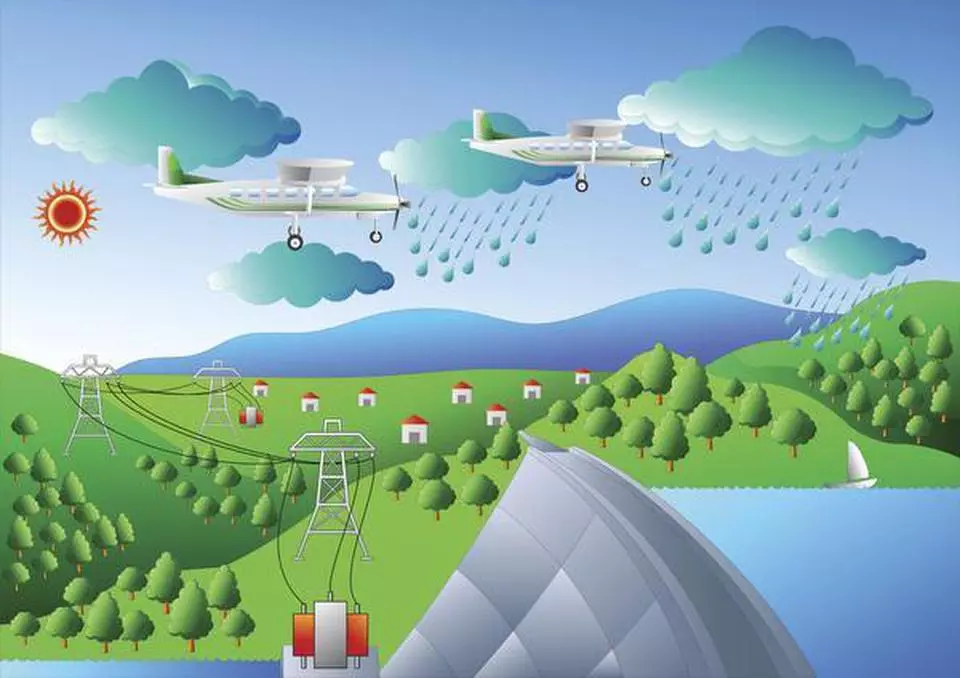 Experiments conducted between 1947 and 1994 in Australia could not prove that the cloud seeding hypothesis increased winter rainfall decisively. The rainfall variability and naturally occurring rain impacting the reliability of the results made it impossible to reach a conclusive assessment. Any cloud seeding operations carried out during this time were challenged by subsequent research revealing the lack of reliability of results due to the interference of natural factors. The results indicated some success confined its possible effectiveness only to specific climate regimes. 
Additionally, in 2010 Alpert and colleagues examined the effect of 50 years' worth of cloud seeding operations over the Sea of Galilee in northern Israel. They found that it can explain the periods of increased rainfall with changing weather patterns instead of seeding. Areas not subject to seeding showed similar signs of increased rainfall as seeded areas.
In 2021, the Israeli cloud seeding program was halted after being considered not economically efficient enough to warrant the marginal gains. Even if cloud seeding does work, when it comes to solving the complex problem of increasing water shortages around the globe, a simple solution like cloud seeding could have consequences.
This technology has been misused before for malicious purposes by those in power. The USA increased rainfall by seeding clouds during the Vietnam war to slow down and disrupt the Vietcong. In the aftermath of the Chornobyl disaster, precipitation containing radioactive fallout was redirected from Russian cities to the Belarusian provinces, where nuclear waste had fallen with rain on hundreds of thousands of oblivious locals.
Silver iodide, the rain-inducing chemical mentioned before, is also known to be toxic. Fajardo and colleagues found that repeated cloud seeding operations in a specific area could result in the cumulation of toxic material in the soil and aquatic ecosystem. They also assist in reducing the respiration and photosynthesis capabilities of organisms such as phytoplankton to a moderate extent. It could have significant harmful implications for the life in these systems.
Yet another point of contention is the evidence that making rain in one place reduces rain downstream, effectively depriving other areas of their fair and, in some cases, desperately needed share of rainfall. In 2018, Iranian officials expressed concerns regarding the cloud seeding programs of Israel and UAE, claiming that Iran was being deprived of a vital water source.
As stress related to droughts and water shortages worldwide continues to mount, seeding clouds is a possible solution to this growing problem. Despite questions about whether this technique creates enough rainfall to be worth the effort and expense, proponents argue that the 10%-25% increase in precipitation from seeded clouds is more than enough to help alleviate at least some of the effects of these issues.
The Chinese Ministry of Water Resources recently announced plans to replenish the Yangtze River's water reserves, which have dried off in some areas. Reportedly, cloud seeding may be used to bring more rainfall to those areas. This technology was successfully used in the 2008 Beijing Olympics to divert rain away from the open-air museum.
Climate change has given rise to the most extended heat wave to date in China. It has caused hydropower reservoirs to be down to half capacity, resulting in power shortages and blackouts in the Sichuan Province.
The UAE has also been a victim of the shortage of natural rain. The growing demand for water in the country is being met mainly through unsustainable desalination plants that require large sums of money to build and run. For the past 22 years, it has spent millions in cloud seeding operations and research, believing wholeheartedly in its results. In the summer, cloud seeding missions are in full swing.
Newly patented nanotechnology developed at Khalifa University in Abu Dhabi is using alongside silver iodide, believing that the new advancement produces better results. Currently, the American Mid-west is exploring cloud seeding as a way to quench the droughts spanning 40% of its area.
As the world continues to face the growing aftereffects of climate change, the need to mitigate the ramifications of global water shortages is rising exponentially. Whether cloud seeding and advancements in its field are the final solutions or not, it has become apparent that the ability to control clouds and rainfall to a greater extent is the need of the hour.
References:
Also, read: What is the cloud burst?
Zaryab Gohar is A levels student at Lahore Grammar School. He has a particular interest in technological advances and their application in multiple fields.