Dragon in Space: A story of how SpaceX beat industry giants in the race to ISS
Nearly 50 years ago, humankind first stepped on another planetary body on mission Apollo 11 with Commander Neil Armstrong and Buzz Aldrin. The entire world was watching and the Americans were celebrating their victory over the Soviet Union in a fascinating race to space. After the success of Apollo 11, the political will to explore deep space plummeted, and contrary to public inclination towards continued space exploration, no significant steps were taken. However, since 2012 remarkable initiatives have taken place, and the world has seen new game-changing aerospace company SpaceX battling with the giants of the industry.
SpaceX, Space Exploration Technologies and Corporation, was founded by the owner and founder of Paypal, Elon Musk, in 2002. SpaceX has had a bumpy ride since its creation, but in 2019 it did the unexpected and reached new heights of innovation and technology in the space industry.
Boeing has a history of working with NASA on its major space programs and has also played a significant role in the aerospace industry for around 100 years. Boeing uses conventional methods that align with the expectations of NASA; hence, NASA trusted Boeing for the next human flight. The officials at NASA thought that there shouldn't be any discussion, and the contract should be given to Boeing. SpaceX was not even considered a possible fit for designing and manufacturing rockets for this space exploration program. A former deputy NASA administrator, Levi Garver, who pushed the organization to outsource human spaceflight to the private sector, said, "One industry veteran told me, 'You know their rockets are put together with rubber bands and sealing wax,' 'it's not real, it won't fly.'"
On 20 December 2019, Boeing was tasked with sending an uncrewed cargo spacecraft to dock the International Space Station (ISS). Boeing spacecraft Starliner CST-100 was launched from Cape Canaveral, Florida, with high hopes to demonstrate Boeing's ability to cater to a human flight in summer 2020. Still, Starliner failed to stay in the correct orbit and landed back after two days in New Mexico's White Sands Missile Range. United Launch Alliance Atlas V rocket delivered Starliner into the appropriate orbit. Still, after 15 minutes of flight, the spacecraft's clock went 11 hours off, making the spacecraft believe it was in a different part of the mission. The backup command would have been able to maneuver the spacecraft, but there was a communication error as the Starliner was between NASA's Tracking and Data Relay Satellite System satellites. Few things went really wrong, but in defense, Boeing officials said that "a lot of things did go right" and claimed that these are the reasons why we carry out test flights.
After NASA's thorough investigation Kathy Lueders, Associate Administrator of NASA's Human Exploration and Operations Mission Directorate, came up with a list of 80 recommendations to fix Starliner's glaring problems. She said, "Perhaps we didn't have as many people embedded in that process as we should have," and further explained, "the strategy was because we're buying a service, NASA did not have a requirement to have a systems engineering management plan," and "If we had understood what that structure was, we would have been better able to plug into the decision-making process. In particular, how they were integrating software and hardware pieces together. We thought we understood it, but over time we realized it had changed."
Because NASA's approach was more "traditional," it focused more on the programming techniques of SpaceX, "When one provider has a newer approach than the other, it's natural for human beings to focus more on that one," Steve Stich, Manager of NASA's Commercial Crew Program said.
In this intriguing race of technology, time, and money, SpaceX's role was more like a rebellious teenager while Boeing was a very fatherly figure. But the winds were with the new comer's unconventional techniques, which astonished every spectator. SpaceX has been delivering cargo in space since 2012 and was well experienced in the field by the time NASA decided to send humans to ISS for further experiments and exploration. It had the edge over its competitors in terms of innovative technology, the fascinating one being autonomous docking to ISS, and being cost-effective. According to NASA's management of crew transportation of the international space station audit carried out in Nov 2019, SpaceX's average cost per crew was $55 million compared to $90 million of Boeing.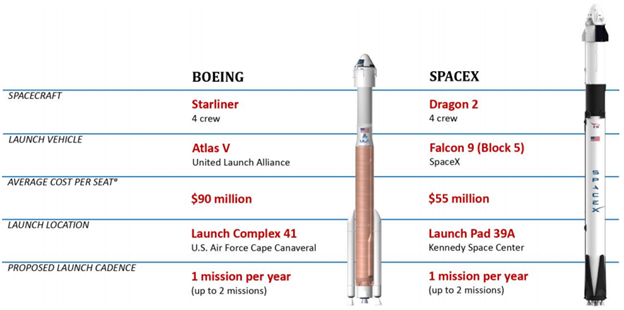 SpaceX's Falcon 9 was also better suited for the mission because of NASA's strict limitations of the "firm-fixed-price" contract, which didn't allow contractors to spend on technology without being economical. It has been SpaceX's trademark that it reuses its rockets along with other equipment. This was a significant reason why Elon Musk's inchoate aerospace startup was able to take its place in the market amongst heavily funded and experienced companies. As per sources, a 125,000-gallon liquid nitrogen tank found in a scrap was also made to use by the engineers at this organization. In an interview, Musk said, "We had to be super scrappy," Musk once told The Washington Post. "If we did it the standard way, we would have run out of money. For many years, we were week to week on cash flow, within weeks of running out of money. It definitely creates a mind-set of smart spending. Be scrappy or die: Those were our two options. Buy scrap components, fix them up, and make them work."
During this endeavor, SpaceX lost two Falcon 9 rockets and also struggled with its parachute system for the safe landing of the spacecraft. The Dragon capsule was also completely destroyed during emergency abort system testing.
But SpaceX analyzed its mistakes and fixed them, because of which it was able to gain confidence from NASA and successfully receive 2.6 billion dollars to provide with six operational missions to and from space stations. Boeing also received 4.2 billion dollars but is yet to demonstrate an uncrewed flight to ISS). The discrepancy in amounts assigned to both the companies fueled outrage to which Elon Musk said, "It doesn't seem right," he also added, "not fair that Boeing gets so much more for the same thing." However, Boeing responded that they are offering flexibility and carry cargo equivalent to 5th passenger on its spacecraft; therefore, the overall package seems to be costly.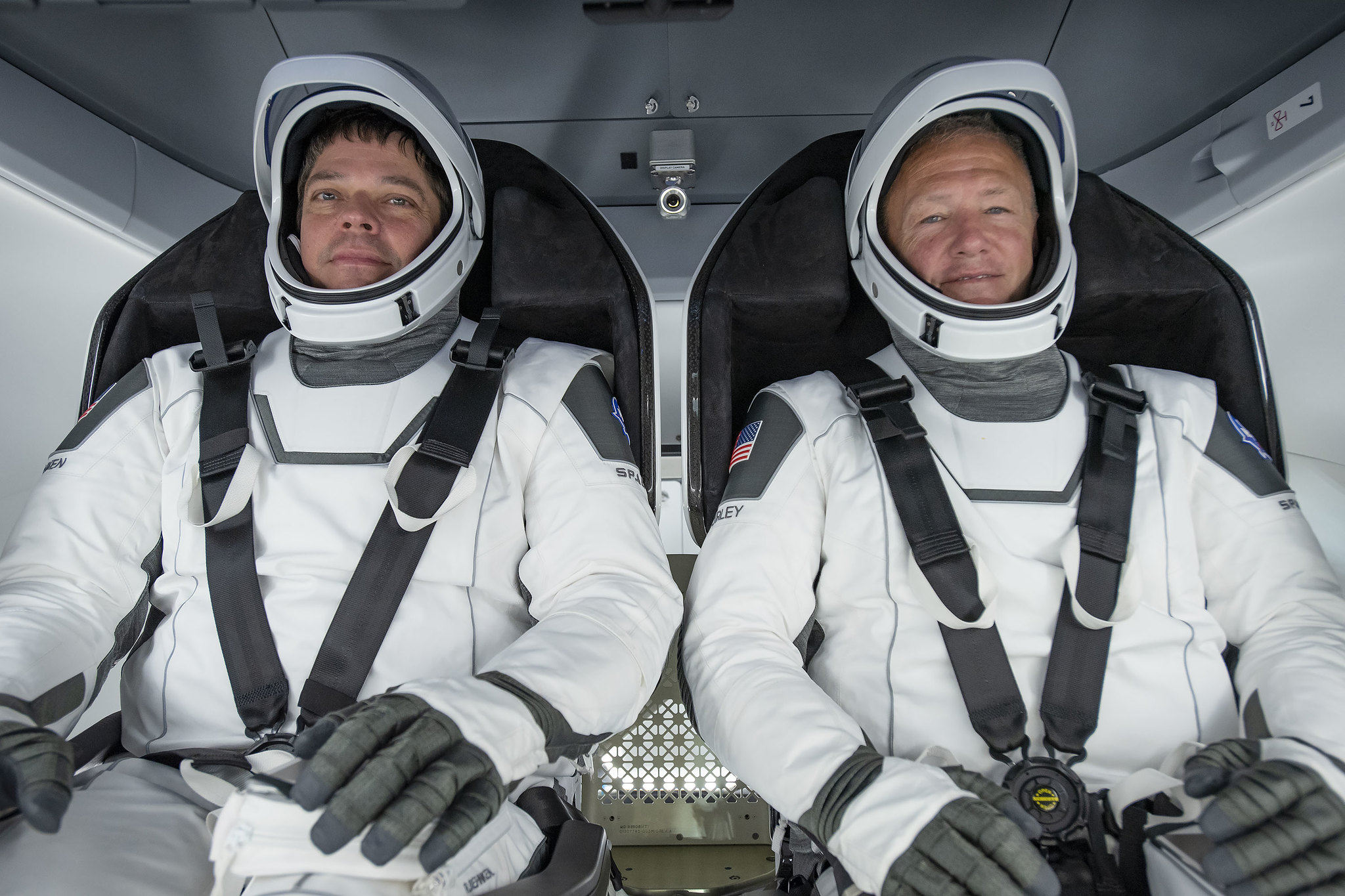 Even with differences in funding, NASA's claimed that SpaceX's Crew Dragon spacecraft is one of the "safest and most reliable spacecraft ever built." On 30th May, on mission Demo-2, SpaceX launched two astronauts, Bob Behnken and Doug Hurley, in SpaceX Crew Dragon spacecraft at 3:22 pm EDT. The Falcon 9 rocket took off from Launch Complex 39A at NASA's Kennedy Space Centre in Florida.
After successful completion of Mission Demo-2, NASA's Commercial Crew Program will officially certify Crew Dragon for operational, long-duration missions to the space station. This mission will act as a test for all aspects of human space flights ranging from launch pad 39A to spacesuits.
This expedition is known as the "The New Beginning" by many. This event marks the history of not only space exploration but is also an epitome of the advancement of the human race concerning intelligence and innovation. This is a significant step towards the Artemis program, where extensive research experiments will be conducted on the moon, which will prepare us for future expeditions to Mars. This event also holds a geopolitical significance because, previously, NASA sent American astronauts on Russian rockets, which jeopardized the security of the USA. Still, now private companies being a part of space exploration indicates that this is not a race between two nations but a healthy technological competition with an element of economic interest.
Also, Read: Everything you need to know about Remote Sensing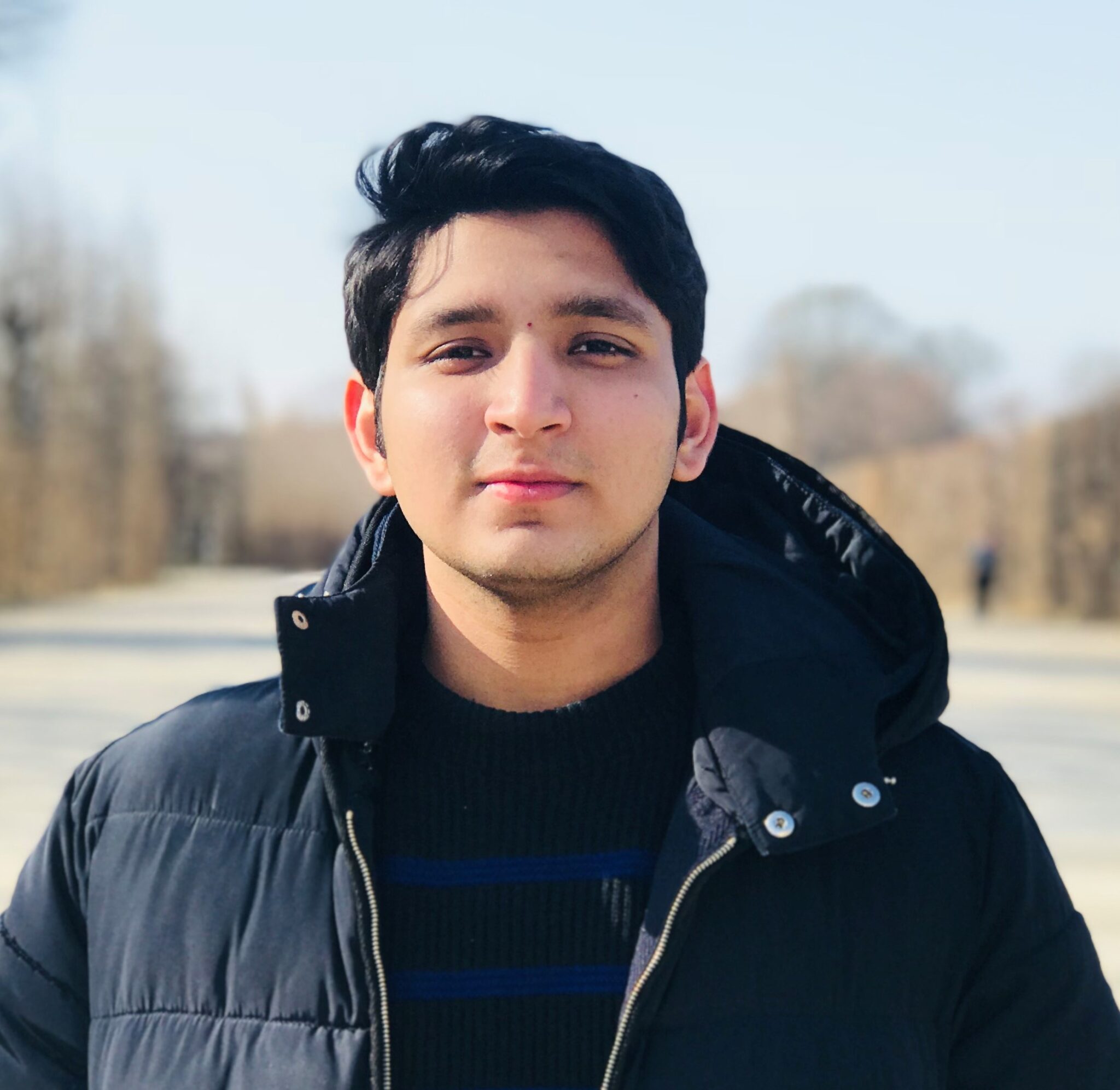 Anique Ajmal Siddiqui is an Aerospace Engineer from Queen Mary, University of London, and has spent an exchange year at University of California, Irvine. He has been employed at Integrated Dynamics Aerospace and Robotics where he worked as a Design Engineer (Aerospace) with two major Unmanned Aerial Vehicle (UAV) projects under his belt; a solar-powered HAPS (High Altitude Pseudo Satellite) glider, which was displayed at Dubai Air Show 2019, and a custom made VTOL (Vertical Take-Off and Landing). He is an aviation and space enthusiast with particular inclination towards green aviation and space exploration programs.