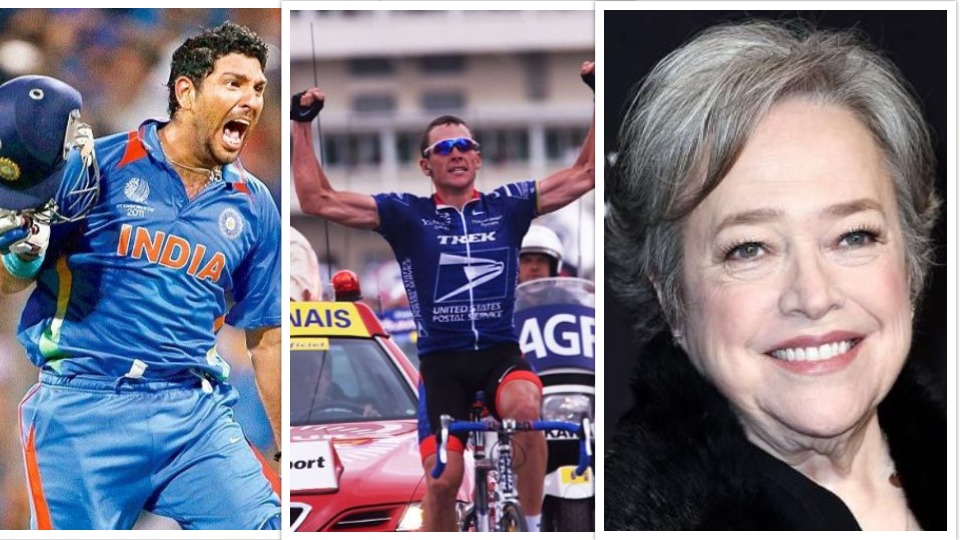 Stories of Courage, Notable Cancer Survivors
Most of the people become hopeless about life when they found themselves being suffering from such a life-threatening disease. This is an inner strength and motivation that help patient to endure the whole process.
A cancer-survivor is any person who is still living with any type of cancer and fighting against it. The survivors vary from group to group and involve the persons diagnosed at an early stage or the person who has completed their treatment or the person who died while living actively till his/her last breath, all are considered as cancer survivors. This is a process of beating and fighting cancer as a life-changing experience, which requires determination, persistence, and hopes that the patient will cope with the situation. It equally offers an opportunity to motivate patients for their future endeavors and help them to relive as a better person.
Most of the people become hopeless about life when they found themselves being suffering from such a life-threatening disease. This is an inner strength and motivation that help them and their family to endure the whole process.
NOTABLE CANCER SURVIVORS
Yuvraj Singh
The famous Indian Cricketer, Yuvraj Singh, was diagnosed with stage one lung cancer. On April 2 April 2011, after winning the ICC World Cup in Mumbai, he was diagnosed with lung cancer shortly. His own words upon diagnosis were: "That was a very gloomy and worst moment of my life." It took all the joy and happiness of the win and leaving a dark spot only. "When you are the winner of the World Cup and the Player of the Tournament, you feel yourself on the top of the mountain. Suddenly, you begin to fall in the ditch. It's just life, you don't expect that — you have got no choice. I had to bounce back, and I did it in the best way," he said in an interview.
Yuvraj went to the United States for his treatment against the deadliest disease and came back to India in 2012 after getting healed. He won the battle against cancer and marked himself among survivors. Yuvraj had undergone three cycles of his lungs chemotherapy in the U.S. Nobody thought about giving a chance to Yuvraj. With youngsters continually being added to the Indian team, nobody ever thought Yuvraj would be able to make a comeback. But he actually did! It was not easy; he was scolded for not giving his best in the 2014 World T20 final against Sri Lanka, where the Islanders won by six wickets. But this was the time to prove himself. After years of struggle, he made himself a crucial part of the Indian Cricket Team again.
Kathy Bates
An Oscar-winning holy-wood actress who is also a cancer survivor shaped her life into a totally new manner after her fight against cancer. She has gone through hell from the diagnosis of cancer to treatment by keeping it private from the world.
In 2003, the actress was diagnosed with 1st stage ovarian cancer but immediately had her surgery and Chemotherapy done within nine months. She kept her illness private from the world because she was rocking the television at that time. She had told in an interview that "I got back to work right after the operation and started working on LITTLE BLACK BOOK." The fatal and life-threatening disease didn't put her morale down. Her misery didn't end here. In 2012, she was again diagnosed with breast cancer. As her mother and aunt had died from breast cancer, she added to her misery. She soon had undergone double mastectomy because of the family history with cancer.
She has fought fearlessly against cancer. Now she is a cancer survivor and has gone through the biggest challenges that life has posed in her way. In an interview, she said: she is facing many challenges of living with lymphedema, a disease that is caused by the removal of lymph nodes during the treatment of cancer. The condition is painful, causes swelling and cure-less.
Despite facing so many challenges, Kathy did not let her frustration and depression put her morale down. Instead, she has turned her frustration into a Noble cause by spreading awareness about cancer and lymphedema about which many people are unaware. Kathy became the National Spoke Person for Lymphatic Education and Research Network and got a bill passed in New York to spread awareness about the lymphedema by visiting Hospitals. She has managed her life so beautifully despite facing so many challenges. Her life is a true inspiration.
Sophia Anagnostou
Sophia Anagnostou was in 6th grade when she was diagnosed with cancer (leukemia). Leukemia is the dangerous cancer type in which the body's blood from tissues, including bone marrow and lymphatic system. Its treatment involves constant blood and platelet transfusion. She has undergone chemotherapy, spinal taps, platelets and blood transfusion, and life-threatening infections. To motivate herself, she wrote a song about her illness. Her song went viral on social media. She said she felt happy and satisfied and felt like she has helped other cancer patients with her song.
Vicky Davis
Davis' life had turned upside down in October 2015 when she had gone for her routine regular check-up, a yearly mammogram, and got a call afterward. After a biopsy, 2 lumps were found. 1 in her left breast and the other in lymph nodes under her arms. Further tests indicated that her cancer was HER-2 positive. Despite being a very aggressive cancer, several drugs have been developed that specifically target the protein on the cancer cells that restrict their growth.
The First Surgeon Davis had met with didn't take his case serious. So, she went to another surgeon who immediately advised her to get her Chemotherapy done as soon as possible. Herceptin and Perjeta drugs were prescribed, and mastectomy had done to remove her left breast and tumor from the lymph nodes. Surgery followed by radiation was allowed that targeted her 5 tumors in lymph nodes and 5 tumors in the left chest.
Vicky Davis says that the struggle to survive has made her strong enough to cope with any problematic situation. Now she has returned to her job to resume his daily routine and started a Women Support Group Program in which gives awareness about cancer and feeds the victims that help her to forget about her own problems. Vicky is now a cancer survivor with high aims. She says that anyone who can tackle this deadliest disease can fight with anything.
Christy Dun
Christy Dun was 47 when she was diagnosed with pancreatic cancer. Her family was all shattered and in pain after hearing this news. She was admitted in a hospital for 9 days with severe back and stomach pain before the cancer was being diagnosed. When diagnosis, her cancer was on the 3rd stage. Doctors disappointed with her life because they were unable to remove the tumor as the arteries and veins were involved. So, they recommended her Chemotherapy.
Surprisingly, her Chemotherapy went well with, and the tumor began to shrink. Sher oncologist advised her to have surgery done after 4 more cycles of Chemotherapy. But unfortunately, her tumor started to grow all over again without the involvement of arteries and veins. After that, surgery was done in which her bladder, pancreas, spleen, part of the colon, and liver were removed. It took her 6 weeks to be able to recover from the surgery and got back to routine. Despite having slim chances of her survival, she withstood to aggressive Chemotherapy and defied all the odds. Yes. She fought with the battle against cancer and survived.
Shannon Miller
Shannon Miller is a seven-time Olympic Gold medal winner. In 2010, she was diagnosed with ovarian cancer. During a routine pelvic examination, her doctor found a baseball-sized mass covering her ovaries. It turned out to be an ovarian germ-line tumor afterward. She had done her surgery and Chemotherapy soon after diagnosis. The cancer was in the initial stage, so she recovered within 9 weeks of her aggressive chemotherapy.
In an interview with a channel, she said: I learned a lot during her training for gymnastics about self-control and hardship, which helped her a lot to endure through terrible situations throughout her life." She further added that "A considerable part of her success relied on the fact that I was going through the mental trauma. I learned strategies to cope with this psychological trauma with a tough mind game, being an athlete. The goals that she has set for her success and decisive mind game assisted her in getting over the toughest moment during her cancer treatment.
Mr. Lin
In 2013, Mr. Lin was diagnosed with adenocarcinoma in the right lung due to bloody sputum production. He was too old and weak to withstand the open surgery that would cut his 2/3 lung. The chances of his survival were small enough. His doctors risked of an advanced Argon-Helium cryosurgical ablation and brachytherapy at Fuda, China. This therapy was less painful, traumatic, and apparently had fewer side effects. This therapy involves exposing the cells to extreme cold conditions allowing the cells to undergo apoptosis. So, the tumor cells die abruptly. After a few weeks, he went through a smooth lung biopsy and marked himself in the list of famous cancer survivors.
Lance Armstrong
A professional and well known American Professional road racing cyclist who was diagnosed with the third stage testicular cancer. He was living his life to the fullest, and an experience everyone dreams about. He had recently moved to his $1 million, 5,000-square-foot, Mediterranean-style palazzo on the coast of Lake Austin. He was a champion with million-dollar contracts with the cycling teams of France and a half or more million-dollar endorsement deals. He was famous for his aggressive, bold and risk-taking nature. In an interview, he was asked if he was going to be another Lemond, he replied: "No, I am going to be the First Lance Armstrong." His determination made him ranked as the seventh-best cyclist in the world.
He was a cyclist, so the testicular pain was a normal thing for him until he felt a bloodstream coming out of his mouth. It was late at night, upon seeing a doctor, he was diagnosed with a virus, treatable with antibiotics. It was the beginning. Upon getting the condition worse, on 2 October 1996, he was diagnosed with testicular cancer. Life couldn't be more unfair than this. The bad news came up to him with a staccato rhythm. A lung tumor was found along with lesions in the brain after chemotherapy and MRI. But Lance wasn't ready to die at the age of 25.
He met other patients, and get motivated after seeing their not so happy yet satisfied faces. His body withstood the trauma of platinum-based Chemotherapy, the tumor was dissolved in the lungs. Lance Armstrong made his comeback precisely 16 months after getting his two surgeries done. The sight of him, scars that were lining his head like railroad tracks and chemotherapy streaks were running down his arms, legs, and torso, and his bike was whipping beneath him, is not a scientifically explainable phenomenon. Today he is clean, cancer-free, a survivor. Come back from the disease to regular life, to a 9-to-5 job, would have been incredible. But a comeback like this occurs once in a million.
Also, give a read: Breast cancer; the deadliest disease worldwide
Komal Nadeem is based in Jhelum. She is doing BS. Biochemistry from Quaid-i-Azam University, Islamabad. Her Interests are Reading books and novels, Gardening, Observing surroundings.