Future of Telemedicine in Pakistan
Telemedicine activities emerged in Pakistan in 1998 with Elixir Technology taking the initiative as a philanthropic project named TelMEDPAK.
Telemedicine is a more reliable way to provide healthcare facilities to the people of the underprivileged unprocurable areas. It facilitates the patients and a doctor to communicate with a specialist 100 miles away. The history of telemedicine is ancient. In 1950, Robert Ledley used digital computers for dental projects at the National Bureau of Standards. It demands the presence of both parties at the same time and a high bandwidth communication link between them.
Video- conferencing equipment is one of the most common forms of technologies used in real-time telemedicine. The objective of telemedicine is to provide equal access to medical expertise irrespective of the geographical location of the person in need. Telemedicine has more considerable significance in developing countries since it allows people from remote areas to access medical facilities and live a healthy life.
Pakistan is one of the densely populated developing countries where most people are living in villages. There is a huge disparity in health care distribution in rural and urban areas. Pakistan spends only 2.8% of its Gross Domestic Product (GDP) on the heath.
Recent medical statistics show that the situation in Pakistan is disastrous due to a small and inadequate amount of skilled healthcare staff. According to the World Health Organization (WHO), Pakistan has one physician for 1351 people, a dentist for 20000, a nurse for 3225, a midwife for 6666, and one pharmacist for 20000. Policy emphasis continues to focus on the expansion of medical colleges, and the number grew exponentially with 2 in 1947 to 114 in 2019. [1] [2]
The fundamental structure of healthcare in Pakistan consists of rural health centers, basic health units, tehsil headquarters hospitals, district headquarters hospitals, and teaching hospitals. Here, approximately 75% of Pakistan's population lives in rural areas, while the percentage of doctors working in those areas is about 22%. The ratio of hospital beds in rural areas to urban areas is 18% to 82%. [3]
There are also notable urban-rural discrepancies in human resources, particularly for doctors. An estimated 14.5 physicians per 10 000 population in urban areas is contrasted with 3.6 per 10 000 people in rural areas. There is a smaller but nevertheless significant discrepancy in the distribution of nurses and midwives, with a higher urban concentration of 7.6 midwives compared to 2.9 per 10 000 population in rural areas. Apart from these discrepancies, rural areas do possess a sizeable number of front-line village-based 'Lady Health Workers' (LHW), who act as the first point of contact for primary health care. [4]
The above statistics show that even though Pakistan's population is mostly concentrated in the villages and small towns, the medical services in those areas are insufficient. Consult a specialist doctor, people of rural areas have no choice other than traveling to big cities. Most often than not, due to inadequate conditions of roads and traffic, the patients couldn't meet the concerned doctor on the day of the appointment.
To provide fitting healthcare facilities to the overly frustrated rural population, the Government has to choose one of the two possible options.
To improve the poor infrastructure and attempt to build hospitals.
Telemedicine, the best option for providing the most reliable healthcare facilities using the maximum utilization of limited resources.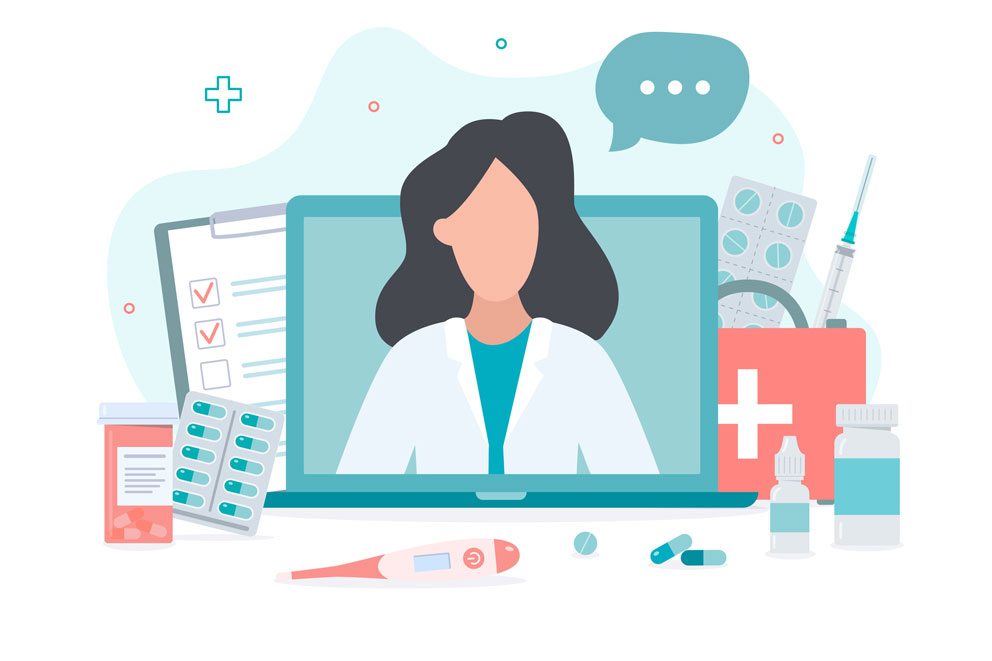 Telemedicine activities emerged in Pakistan in 1998 with Elixir Technology taking the initiative as a philanthropic project named TelMEDPAK, which completed small projects on an experimental basis in Taxila and Gilgit, and it got successful.
In the first project at Taxila, Ali Family Hospital, a private hospital, was equipped with a computer system and scanner with internet facilities and connected with Holy Family Hospital in Rawalpindi. Opinions were collected from the specialist doctors by sending care reports of the patients to them. The patient's stories and records were kept strictly confidential.
The other project at Gilgit has a 'voice chat' facility. In this project, the telemedicine model has been demonstrated by linking District Headquarter Hospital (D.H.Q.) Gilgit, with a surgical unit of Holy Family Hospital Rawalpindi, medical specialists related to particular fields, was made available. In this regard, all the possible modalities of telemedicine were tested and practiced like sending images, x-rays, and patient records, etc. to specialists at Holy Family Hospital Rawalpindi.
Besides the private sector, the Government of Pakistan has also taken initiatives for the advancements in telemedicine. A few of them are the foundation of the telemedicine forum in September 2001, the development of health management information system (HIMS), the construction of health resource center (HIRC) which lead to the establishment of electronic patient record system at the federal hospital and promoting health research and link research respectively.
The telecommunication industry in Pakistan is undergoing rapid development as a result of which the communication connectivity all over the country has improved remarkably, and it's a good sign for the development of telemedicine in Pakistan.
In Pakistan, numerous telemedicine setups are working in different parts of the country, being run by both Government and private organizations. In 2007, a Telehealth project was announced by Electronic Government Directorate (E.G.D.) Pakistan started in 3 Hospitals, like Mayo Hospital, Holy Family Hospital Rawalpindi, and Jinnah Post Graduate Medical Center. In 2009, Agha Khan Health Services Pakistan also started telemedicine services initially implemented in Gilgit Baltistan.
Apart from these, there are multiple Private organizations running telemedicine services in different parts of the country. The most notable of them are mentioned below;
Shifa4U
Shifa4U is a comprehensive, one-stop-shop healthcare platform for telemedicine services. In addition to online consultations with doctors, the platform allows you to schedule physical appointments for radiology, lab, homecare, and local doctors.
Aman TeleHealth
An initiative of the Aman Foundations, Aman TeleHealth, is 24-hour healthcare. The helpline provides secure and timely access to diagnostic services, basic medical advice, mental health, and family planning counseling.
Ring a Doctor
Ring a Doctor is another reliable 24/7 online consultation platform, giving you a chance to get your condition diagnosed from the comforts of your home through a video session.
Marham
Marham is a similar platform that has already served over 300,000 patients through online consultations. Offering a wide range of specialized services, Marham has a hassle-free process of connecting patients with relevant doctors and physicians online.
Sehat Kahani
Sehat Kahani boasts 3-click, 24/7 telemedicine services for those in need. It is an all-female health provider network that provides quality healthcare to those in need, using telemedicine. Sehat Kahani has a dedicated app for e-health services.
Dawaai
Dawaai.pk is an online pharmacy, allowing you to purchase all your medicines in one place. They deliver the drugs at your doorsteps without you having to go out.
Sehat
Sehat is another renowned online pharmacy, offering home delivery of prescription drugs, over the counter and readily available medicines, and special orders.
doctHERs
doctHERs provide you with 24/7 access to leading specialists and consultants through the simple convenience of a smart-phone.
Health Online
A complete healthcare web portal, catering to all your healthcare needs, Health Online (H.O.L.) offers lab tests from home, ambulance service, and an online pharmacy for the patients.
Find My Doctor
Find My Doctor is an app that connects doctors with patients. These days, two of the most essential services offered by Find My Doctor include doctor at home and lab test at home.
PIMS Online Doctor
The Pakistan Institute of Medical Sciences (PIMS) now offers its online consultation service through its official website. You can write your queries and symptoms to relevant departments, and PIMS Online Doctor will respond with the prescription, if necessary.
In Pakistan, as already discussed, Healthcare facilities are scarce compared to its population, which is approximately 220 Million, especially in rural areas. So the best way to combat this situation is to have an advanced Telehealth system that should be free of cost and readily available to masses, especially to those from the lower class and far plunged areas.
There should be a telemedicine center in each tehsil headquarter hospital, district headquarters hospital, and teaching hospital, which will provide real-time telemedicine facilities. Each of the telemedicine centers should be connected with medical stores to get the medicine in time. These telemedicine centers should then be combined with their respective provincial telemedicine centers and a centralized Telemedicine center located in Federal capital, Islamabad.
When this system gets implemented, there will be comparatively less burden on the healthcare system in hospitals. It will improve access to health care services by reducing the need for patients or doctors to travel. The people from inaccessible areas will get free of cost services when needed, and there will be comparatively mere loss of life lives, especially in case of emergencies. It will also have distinct advantages in travel emergencies in the ships, airplanes, and possibly on the battlefield.
Pakistan, being a developing country, is making advancements in telemedicine, but there is a long road ahead. The Government and private organizations should invest in the telemedicine sector to provide health care services to the people living in remote areas. Hopefully, we will be able to catch up to some of the emerging markets in integrating technology and healthcare to provide a solution to our many problems anytime soon. The healthcare providers in Pakistan are among the best in the world, if their services are utilized in telemedicine, it will be a blessing in disguise to Pakistan's vulnerable healthcare system.
Bibliography
[1] http://en.wikipidia.org/wiki/Pakistan
[2] https://en.m.wikipedia.org/wiki/List_of_medical_schools_in_Pakistan
[3] Pakistan, Government of (2005-06) Economic Survey of Pakistan (2005–06). Islamabad: Finance Division, Economic Adviser's Wing.
[4] https://www.who.int › projectsPDFWeb resultsPRIMARY CARE SYSTEMS PROFILES … – World Health Organization
Sarmad Sahim Khan is an Optometrist at Al-Shifa Trust Eye Hospital Rawalpindi. He is a Philanthropist, social worker, and freelancer. Reading and writing are two of his favorite hobbies.