The COVID-19 crisis has unfortunately forced us to stay at home. This is an essential step to stop the spread of the virus and limit the contagion. Each of us is living a little differently during the lockdown. Students and scholars are also trying to adjust to this life and looking for ways to use their time productively. Scientia has caught up with a scholar to talk about the lockdown/quarantine days.
Rubab Raza is a Ph.D. research student currently enrolled in Quaid-i-Azam University, Islamabad. She is a gold medalist in the MPhil program from QAU Islamabad. She likes singing, fine arts, and sketching during her free time. She is on the way to serving society by volunteering her services. 
In 2016-2017, she served as a joint secretary of the Biochemist association of Quaid-i-Azam University, Islamabad (BAQI). Currently, she is serving as the President of the Biochemistry association of Quaid-i-Azam University, Islamabad (BAQI). Moreover, she is also a member of Music society and Quaidian Christian society, QAU, Islamabad.
See here what she has to tell about:
During quarantine, we are all forced to stay at home. So, what are you doing to make yourself active and busy?
Where quarantine has paused our lives, it has added positivity in our lives too. I start my day with a morning prayer, then I have a very healthy breakfast and spend some time with my family, which was impossible otherwise due to our busy routines. I love to sing and draw as well, so I also spare some time for these activities. Due to quarantine, practical work in my lab has been affected a lot, but these days I try to keep me up to date about my research work by reading articles and watching videos related to my work, thanks to the internet. Also, I live in a joint family system, so I keep myself and other kids of the family busy by doing drawing competitions with them, artwork, cooking, etc.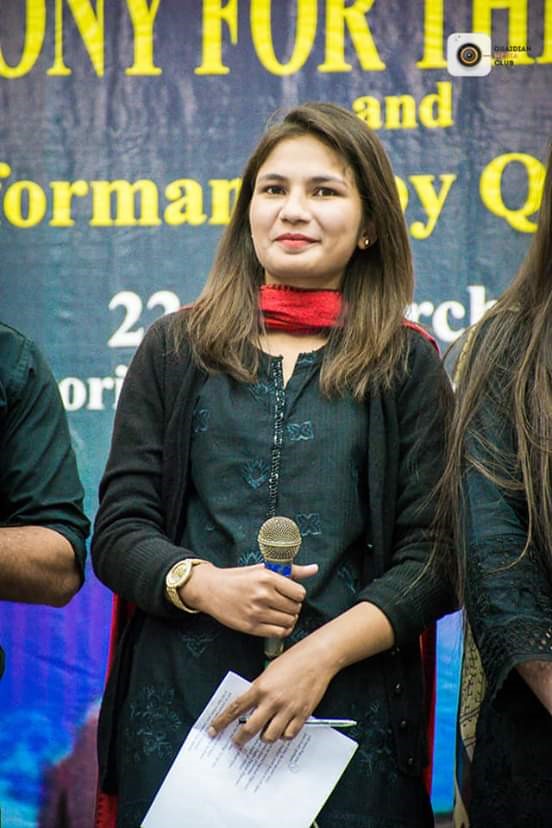 When you first heard about the lockdown/quarantine, how much did you know about a viral disease like COVID19 and Pandemics? With each new day, the situation is getting worse. What do you think, how can nations fight effectively against Coronavirus?
At first, I knew a little about Coronavirus, but with each day, I read more about it so that I can learn and guide others about the concerns, safety measures, and effects of this disease. As there is no treatment known for Coronavirus till now, so every individual should fight on its own only by taking necessary actions and preventive measures such as wearing gloves and masks, washing hands, proper isolation and avoid meeting others. Pakistan's government has also taken anti-corona steps. The best way for the nations to fight this virus effectively is that they should ensure a complete lockdown where people should avoid meeting each other, and mass gatherings should also be avoided. This will markedly reduce the spread of this disease.
How would you think that students can contribute to serving the nation during these tough times?
Being students, we should learn about the virus and the disease and then correctly educate others about it as well. We should also highlight the importance of vitamin C and food that boost immunity, should guide people that how vital the precautionary measures are. We should also do volunteer work by sharing food with the needy.
How institutes can avail this time as an opportunity to make their students think on one's feet. Any suggestions?
University authorities should do online competitions to keep their students busy and linked to universities. The match includes drawing competition, photography, essay writing competition, etc. Research students should be given articles to study and present it through an online presentation.
The lockdown can leave some impacts on the students may be in the form of anxiety. Are you fearful about your career due to the current situation? How could someone combat these issues?
A Ph.D. is a long term commitment, and it takes a lot of years. Being a Ph.D. student, I am worried about it as this whole situation will add more time to the completion of my degree. It has caused anxiety as well, but we should need not panic and combat stress by taking a healthy meal, good sleep, and exercise. We should also take care of our mental health by accepting the situation and acting accordingly by taking a break and talking about your feelings, by staying active and by helping and caring for others. I am hopeful that this situation is temporary and good days will come.
You are a Ph.D. researcher. How are you leading your projects online? What problems are you facing in your research work?
Being a biochemist, my research is lab-based. Quarantine has affected it a lot. I am facing a lot of problems during this period as I have to continue my research project in the lab. I can only read articles at home that are related to my research. Freelancing is an excellent platform and has a lot of benefits, so I am inclined towards it as well, through which I can polish my abilities.
An online instructor cannot gauge the mood, involvement, and engagement level of his/ her students the way he/she can in a traditional lecture-based classroom. What do you think is an effective way to deal with these problems?
Lack of self-discipline, communication barriers, unavailability of the internet, and loss of interest are the significant problems faced in an online learning system. The online instructor should do the following things to deal with these problems.
Design the course in such a way that it will motivate students, as motivation will lead to engagement and active learning.
Create open communication channels for students.
Identify and use the best tools to achieve learning goals
Promote an enthusiastic exchange of ideas and information among the online students.
Diversify the assessment methods.
In Pakistan, most educators aren't expertly trained to handle the technical details of an online class, and therefore students are complaining hard. We cannot train teachers in a short time, so how can we improve the standard of online learning?
Following parameters my help:
Institute should ensure that adequate technical, administrative, and peer support is available to teachers during online education.
Online seminars should be conducted to train teachers about online classes.
Easy online software should be introduced for teachers.
Teachers should be allowed to decide which technology they can adopt and which software they can use.
Teachers should realize the importance of online learning and should step forward, clearing all the barriers, learning how to use the technologies, and improving the standard of online education.
Also Read: Keeping alive the tradition of discoveries under Quarantine
Fatima Zahra is a student of Quaid-e-Azam University Islamabad doing her BS Biochemistry. she is interested in reading suspense stories, creative writing, and also fond of cooking.