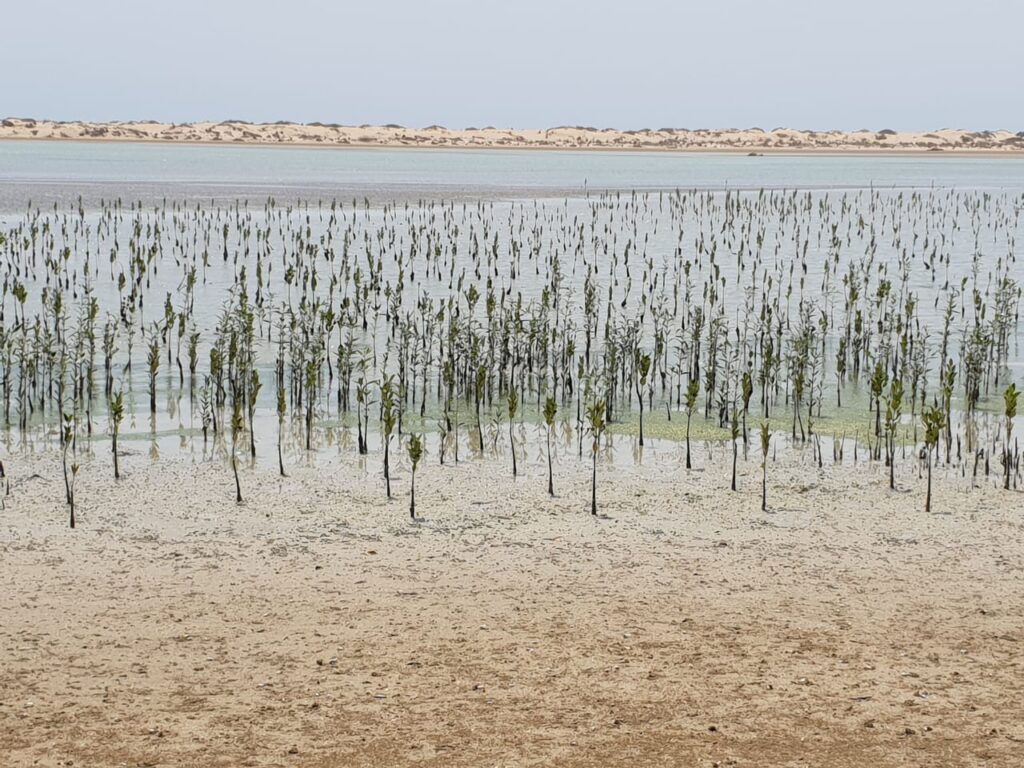 Pakistan's "10 Billion Tree Tsunami" is under porcupine invasion
The massive tree plantation is just one effort to reduce climate change, but it's not enough by itself.
Working in daylight is not bothersome for Asghar Ali, but as the dusk falls, he confronts the danger of trespassers at Hub Dam afforestation site located in Southern province of Pakistan.
The intruders are not human beings. They are stealthy porcupines, wild crawling animals with their backs covered with quills stiff-like needles. "During the day porcupines stay in their hideouts," Asghar says, "the pitch-black darkness of the site allows porcupines to feast on nascent saplings of Azadirachta indica, natively known as Neem tree."
The site at Hub Dam hosts more than 30,000 saplings of various species. Out of the 15,000 Vachellia Nilotica (Keekar) trees and 8,000 Azadirachta indica (neem) trees, only 6,000 have survived after porcupines ate 2,000 of them.
Porcupines' attacks on afforestation sites are one of the many threats to the afforestation drive in Balochistan.
The province of Balochistan is an arid and semi-arid region with a harsh climate. Moreover, it lies out of Asian Monsoon influence, which keeps it dry and vulnerable to extreme continental heat and cold. This reinforces the need to kick off aggressive afforestation in the region.
According to the 2019 Forestry Sector Review of Pakistan, the total forest cover in Balochistan is 1.4%, which amounts to 35,194,796 million ha. This region has the least forest cover in Pakistan, making it more prone to harsh climate change effects.
For instance, Turbat, one of the main cities of Makran Division in Balochistan province, was observed to be the hottest city in the country in May 2017 with the mercury rising as high as 128.3 degrees Fahrenheit (53.5 degrees Celsius).
In 2020, Germanwatch's Climate Vulnerability Index categorized Pakistan as one of the five countries most vulnerable countries to global warming.
Lack of resources
Asghar and his colleagues are six employees burdened with the onus of looking after the afforestation site at Hub Dam. They have to traverse over 70 acres to make sure the saplings are safe. In order to confront the porcupines at night, they have to rely upon some hunting dogs which they bring from their neighboring village.
The site lacks basic equipment such as searchlights. "We are facing a scarcity of technological assistance. If we wish to equip ourselves with tools, it needs hefty funding," says Saifullah Zehri, District Forest Conservator.
"There is a device with an infrared technology which releases certain waves to repel the wild animals away from the sites. If we had that technology, we would have saved thousands of neem trees from porcupines," laments Zehri.
The massive tree plantation is just one effort to reduce climate change, but it's not enough by itself, according to Afia Salam, a Geographer and member of National Coordinating Body for Marine Protected Areas and part of the Working Group on Climate Change and National Security.
"It is too early to predict whether the afforestation effort will be successful or a fiasco. Nevertheless, we [the government] have initiated a much necessary drive to mitigate climate change in the country," concluded Afia Salam.
Slow afforestation
Pakistan's forest cover (2%) is the lowest in the South Asian region. Sensing the alarming state of forests, Pakistan's Khyber Pakhtunkhwa province (KPK) initiated a massive afforestation drive in 2014 under the Bonn Challenge (2011) and achieved its target of planting 1 billion trees until 2017.
Under the 10 Billion Tree Tsunami, initiated in 2018, the Pakistan Tehreek-e-Insaf led government has pledged to increase the number of trees to 3 billion by 2023.
To cope with the harsh climatic conditions, Balochistan government has committed to plant 4.2 million trees in the province under 'Billion Tree Tsunami' initiative. However, it is unlikely that they will meet the target of 4.2 million trees by the end of 2021.
"Until now we have planted approximately 0.2 million trees over 220 acres in Lasbela. Apart from this, we have planted half a million (0.5 million) mangroves. However, the drive is not going as fast as it was anticipated," explained Saifullah Zehri.
He added that lack of funding is "one of the daunting issues, whereas the worth of the current planting drive in the district has cost 25 million rupees."
Deputy Forest Conservator district Gwadar Yar Mohammad Dashti also perceives that the pace of the afforestation has gone slow as compared to the previous year. "We have planted 1,830,000 saplings of mangrove trees through direct planting and 300,000 through seed sawing in Gwadar last year. This year we are observing a slowdown in the afforestation drive," Mr. Dashti adds.
According to Pakistan Agriculture Research Council (PARC), 93% of the land in Balochistan is rangeland. The Range and Forestry Research Programme affirms that 90 to 95% of rangelands are a feeding source for sheep and goats. Meanwhile, 80% of the rural population in Balochistan relies on sheep and goat rearing as a livelihood. Nevertheless, grazing poses a serious threat to afforestation drives too.
"The natural forests in the province are protected, as we have employed forest guards to fend off wood theft and the destruction of natural forests. Cattle-grazing, however, is a serious issue. Cattle mostly graze in the night, so it is difficult to prevent," explained Saifullah Zehri.
Conditions for survival
According to researchers Haris Mushtaq, Zia Hashmi, and Amjad Masood, there are two crucial challenges to afforestation drives. These are choosing appropriate sites and ensuring trees' survival rate.
"Afforestation can only be successful when plant species are chosen wisely. Only native plants can have a 70 to 80% survival rate in an arid and semi-arid region like Balochistan," said on his part Dr. Ghulam Khalique, a researcher at the Horticulture department at Lasbela University of Agriculture and Marine Sciences (LUAWMS).
"For instance, Vachellia nilotica and Azadirachta indica are indigenous species which need water and care just for three to four months," he added.
Choosing afforestation sites wisely is also essential for the survival rate of the trees. For instance, during Monsoon rains in 2020, the overflow of excessive water from Hub Dam's spillway inundated many planted trees at Hub Dam afforestation site.
"The basic factor that needs to be kept in mind is the ecological zone where to plant trees. We need to consider the soil conditions, water availability, and species selection. We cannot plant water-guzzling plants in an area with low water availability. Species should be indigenous to the area where they are planted," says Afia Salam.
Scientists must also track climate changes for the initiative to work, said Afia. Some areas, for example, have been historically good at supporting certain species, but due to climate change and land degradation they may lose that ability, she added.
"In coastal areas, the erosion might be shifting. We have to keep all these things in mind before proceeding with afforestation," Afia said.
The World Resource Institute enlists Pakistan among the 25 most water-stressed countries. Similarly, Balochistan remains the most water-stressed province in the country.
A 2019 study found that Quetta, the provincial capital, is the worst affected by water scarcity in the province. According to the study, in the past 30 years, the groundwater has further depleted while going down as low as 700 feet.
"Pakistan is a water-stressed country. But this is because of mismanagement, rather than lack of water availability," claims Afia. She added that "while seeing the pitiable condition of forest cover, which is 2%, we need aggressive afforestation and reforestation in the country to meet WHO's recommended ratio of 25%."
The article can be accessed on Climate Tracker where it was originally published. We reshare with the prior permission of the author.
Also, Read: Eucalyptus poses a threat to the 10 billion tree tsunami Project
Ayaz Khan is a researcher and journalist based in Balochistan. He writes on environmental issues. He tweets at @Ayaz-Jurno