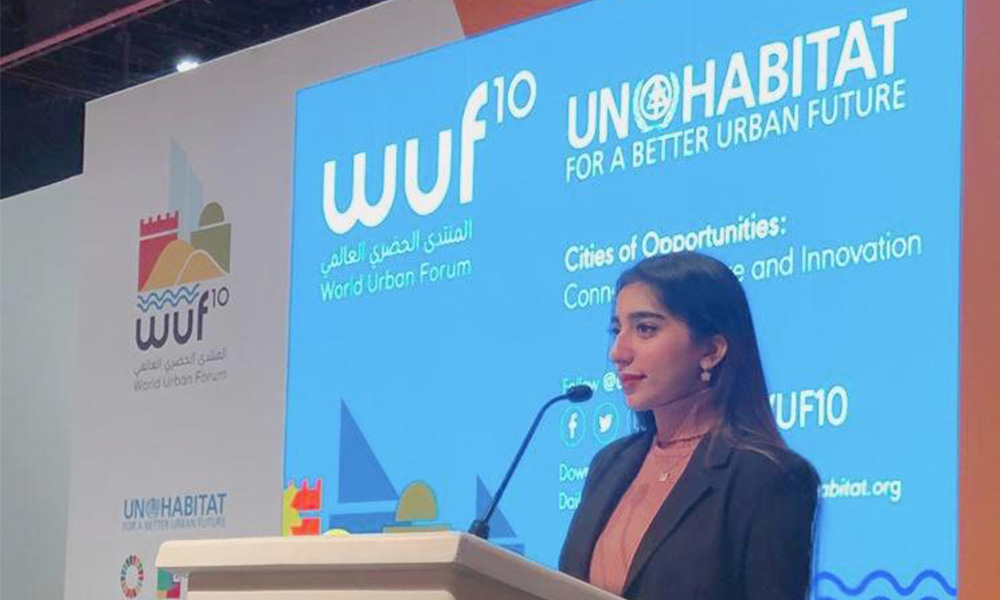 Aliza Ayaz speaks on Climate Action and Sustainable Development Goals
Leveraging this moment of crisis, when usual policies and social norms have been disrupted, bold steps can steer the world back on track towards the Sustainable Development Goals.
A UAE-based Pakistani Student, Aliza Ayaz, has been recently appointed as the UN envoy for sustainable development goals. United Nations Goodwill Ambassadors and Messengers of Peace are distinguished individuals, carefully selected from the fields, who have agreed to help focus worldwide attention on the work of the United Nations to improve the lives of billions of people everywhere.
Ms. Ayaz is the second Pakistani student to be selected as a United Nations Youth Ambassador for SDGs alongside Malala Yousafzai. She is also the first-ever international representative at the UK House of Lords. Aliza is a student of Masters in Infectious Disease Epidemiology in a joint program with University College London and the London School of Hygiene and Tropical Medicine. Alongside, she works with NHS CCGs (Clinical Commissioning Groups) to create sustainable change across the hospital pathway through data-driven insights and on-the-ground implementation of solutions to improve the quality and accessibility of healthcare.
Below are excerpts of Aliza's recent conversation with our team member Fouz Siddiqui:
Having lived in Abu Dhabi & Dubai, Aliza is familiar with Middle Eastern culture and local sociopolitical set-up. Outside of work, Aliza chairs the Climate Action Society and enjoys horse-riding.
How do you feel after your recent appointment as the UN's youth ambassador to help promote their SDGs? What would be your priorities?
Aliza: "It's a massive honor. To be given this responsibility at just 21 is incredible. It's unreal."
In terms of priorities: COVID-19 is spreading human suffering, destabilizing the global economy, and upending the lives of billions of people around the globe. The pandemic is an unprecedented wake-up call, laying bare deep inequalities and exposing precisely the failures addressed in the 2030 Agenda for Sustainable Development and the Paris Agreement on climate change.
Leveraging this moment of crisis, when usual policies and social norms have been disrupted, bold steps can steer the world back on track towards the Sustainable Development Goals. This is the time for a change, for a profound systemic shift to a more sustainable economy that works for both people and the planet. The Sustainable Development Goals are vital for a recovery that leads to greener, more inclusive economies and stronger, more resilient societies. Click on each goal to read more.
Fouz: You have been working as the student advocate for the health and the environment. What do you think Pakistani students are effectively playing their role in such activities and resolving these issues?
Aliza: I hope my experience of climate advocacy for young people is an example. This is why I put so much time, energy and effort into what I do. It's not fluff.
I recommend that the youth try reaching audiences with an environmental message, make each interaction relatable to society as a whole. As this generation are and will be, most affected by climate change they need to be involved in the discussions on future environmental policy.
Current decision-making processes have excluded young people, but with the UK hosting COP26 later this year, we need to take the lead in putting young people center stage. Post-COVID, important decisions will be taken on future investments in infrastructure and the economy – including the next generation of leaders in this process is essential as they will need to buy into, own and drive those solutions forward. Work with companies, be it Nestle, Unilever, EFU, or Food Panda, pitch a sustainability job to them and tell them you are the asset that will make it happen:
The pandemic has exposed inequalities in society with significant negative impacts on Black and Asian communities in particular. We need to expand our understanding of why this is and develop policies to address these disparities. Such lessons are indeed relevant and translate to policymaking in climate change; we must ensure a just and equitable transition to a green economy.
Fouz: Major part of Pakistan has been under thick fog for more than two months due to less rain and climate changes. What steps are integral to better cope with this situation next winter? ( the Questionnaire was made at the end of February 2021, when major parts of Pakistan was under a thick blanket of fog)
Aliza: More research to dissect the fog patterns. It's not entirely climate change, and it's not an entirely natural change of seasons. There are few measurements of aerosol composition in Lahore's fog water chemistry, for example. Are there studies that potentially suggest strong variations in geographic and seasonal signatures that reflect air parcel bidirectional trajectories across marine and terrestrial surfaces?
The scientific phenomenon is that fog forms as atmospheric aerosol particles absorb moisture and water condenses into droplets around these cloud condensation nuclei (CCN). CCN that readily attracts moisture can initiate droplet formation at relative humidities as low as 33%. The reactivity and degree of water affinity of fog CCN become potentially even more complex when considering back trajectories of air masses over industrial and urban landscapes. If we tap into this area, we can actually understand how to tackle fog immediately and use it to communal benefit without worrying about the massive infrastructural and slow government changes needed to reduce pollution, which by the way, are also super important.
Fouz: Do you agree with the environmental policy of Pakistan and think that we are doing great to deal with the alarming situation in the upcoming summer?
Aliza: I think it's progressive, but has various loose ends.
The good things: Ministry of Planning, Development & Special Initiatives (MoP & SI), Government of Pakistan, Planning & Development Departments of provincial governments with the support of UNDP – Pakistan has launched a five years joint project of "National Initiative for Sustainable Development Goals to institutionalize 2030 Agenda.
At the national level, the Federal SDGs Support Unit was established at the ministry with the mandate to ensure early institutionalization of SDGs to provide coordination and advisory to respective ministries and line departments. Technical experts of relevant fields are part of the unit, including Social Advisor, Economic Advisor, I.T/ Data Analyst, Research Analyst, M&E Officer, Admin & Finance Officer, and Communications Specialist.
The initiative brings together the planning, financing, and statistical institutions to work collectively to lay the foundation of SDGs implementation in the country. The institutional mechanism for coordination & oversight and management arrangements can be well explained through the below-mentioned overall structure of the project.
BUT there is no combined unit working on the actual activities to support SDGs implementation.
Fouz: What advice would you like to share with young people worldwide on Sustainability and Climate Action?
Aliza: After learning that temperatures in the Middle East were increasing more than twice the global average, I was horrified when I talked to my relatives and realized that they were unaware of the ramifications of the climate crisis. They didn't really understand how important it was that we all work together to advocate for climate action and for our governments to be working to minimize our effects on the climate crisis. So I set about trying to educate them by translating climate material into Urdu. The large population in Pakistan speaks the local language – Urdu. A lot of the translations that I did were morally explaining in Urdu what climate change is, how it works, and why it's so damaging. I also worked with my mum to translate articles or important information that I found online into Urdu and then sent it to them.
And, I mean, I think it was really needed because they realized, "Oh, this is an impending disaster or a disaster that's already happening," so they have become a lot more eco-conscious; they've tried to minimize their carbon footprint. They try to be a lot more sustainable overall. Most importantly, they've tried to educate others in their community. Iran also signed onto the Paris Climate Accord, and even though they haven't ratified it yet, it is definitely a step forward.
I have realized that since I was able to have such a great impact by myself educating a group of people, that other people could do the same thing.
So CAS was born from my experiences translating climate information. The way that CAS works is that we give students community service hours for translating climate information into different campaigns: recycling, Veg food, urban redevelopment.
In a nutshell, my advice is to build experiences for people. Make climate action an experience that they cannot forget about. By doing all of this, I think that we're really going to be reaching new demographics of people, especially people of color.
Also, Read: A conversation with Zubair A. Siddiqui on how Climate Change is causing low precipitation & water shortage in Pakistan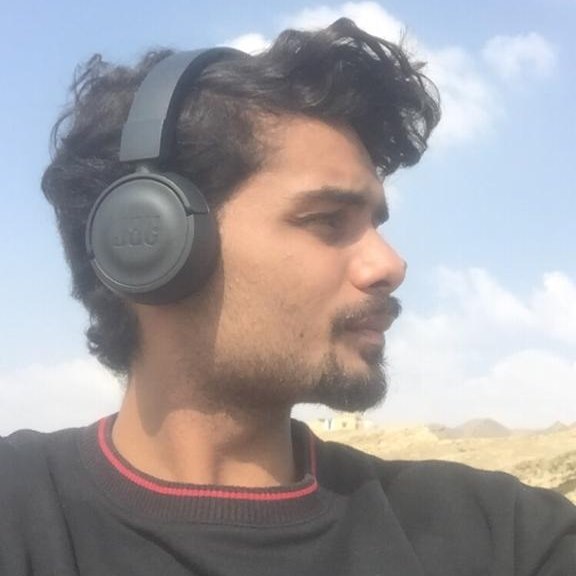 I am a Writer and Science Communicator at Scientia Magazine, who also lectures and audits – Aviation/Aeronautical Engineering at ATH – IST. My interests in studies are Aviation, Data-Driven Astronomy/Astrophysics, Environment, and other Space Sciences.