Is organic farming the solution to diet-oriented breast cancer?
Breast cancer and its incidence
Breast Cancer is one of the most prevalent types of cancers among women in Pakistan and around the world.1,2 In 2020, about 2.3 million new breast cancer cases were reported in women of all ages around the globe3 and about 26,000 new breast cancer cases in women of all ages were reported in Pakistan.1 Both, globally and in Pakistan, it accounts for about 1 in every 4 diagnosed cancer cases among women of all ages.1,3 These numbers are predicted to increase by about 37% globally by 2025.4 While the exact causes for breast cancer may remain unknown, the most common risk factors for it range from genetic predispositions to environmental exposures to diet.
Most common potential risk factors for breast cancer
Inherited genetic predispositions in the genes BRCA1 and BRCA2 are one of the most common causes of breast cancer development.5 Both, BRCA1 and BRCA2 perform the same function of DNA damage repair but at different stages of the cell cycle. Harmful mutations in either one or both of these genes significantly increase the risk of breast cancer development in a female's lifetime.5 Apart from genetic susceptibilities, environmental exposures to cosmic rays and harmful gases such as radon gas also contribute essentially towards the development of breast cancer.6 Alcohol consumption is another majorly contributing risk factor towards the development of breast cancer. The exact reason behind this contribution towards the disease remains unclear.7 However, increased blood estrogen (sex hormone) levels due to alcohol consumption is believed to be at play in the development of breast cancer.7
Estrogen is a sex hormone responsible for the development of the female reproductive system and for the growth of female reproductive organs including breasts. Increased blood estrogen levels can therefore potentially result in uncontrolled growth of the breast cells resulting in cancerous growth inside the breast tissue.8 Apart from genetic and environmental exposures, diet also plays a significant role in the development of breast cancer. A growing amount of evidence from all over the world links the consumption of inorganic/broiler chickens raised at poultry with an increased risk of breast cancer.9,10
Inorganic broiler chicken and breast cancer
It is evident that the feed given to broiler chicken at the poultry farms comprises the carcinogenic metal arsenic. This is due to the beneficial properties of arsenic in controlling parasites, speeding up the chicken's growth and increasing its weight as well as giving an attractive color to the chicken's flesh. A study9 collected chicken feed samples from 10 farmhouses and later chicken flesh from 10 vendors was collected and analyzed for arsenic content. A significant amount of arsenic was found in chicken feed as well as in the samples of chicken flesh collected from vendors.
The study reported that consuming about 60g of chicken on daily basis equals the consumption of about 0.186-0.372 μg of arsenic per day. Another large-scale study10 led by the scientists of the United States Department of Agriculture (USDA) examined about 5000 chicken samples and reported similar findings. The study found that consuming about 2 ounces of broiler chicken per day would ingest about 5.6 to 8.1 micrograms of total arsenic per adult on average. The results from both the studies are alarming and clearly suggest that excessive broiler chicken consumption can prove fatal.
Link between breast cancer and inorganic fruit and vegetable farming
Similarly, the pesticides used in growing fruits and vegetables also significantly contribute to the growing numbers of breast cancer cases worldwide. The link between increased estrogen exposure from pesticides and increased risk of breast cancer is well-evidenced.12 Endocrine-disrupting compounds (EDCs) form a major constituent of the pesticides used in fruit and vegetable farming. These compounds have the tendency to interrupt in normal mammary growth of humans with the potential to form tumors in these organs including the breasts.11 This functional disruption potentially leads to the development of breast cancer. This mechanism has been evidenced in various mice studies.13,14
Apart from EDCs, various other chemical compounds commonly found in pesticides also contribute in a similar manner towards breast cancer development. A case-control study15 recruited 266 individuals; 150 controls and 111 histologically diagnosed breast cancer cases and investigated historic pesticide exposure. The study reported a significant link between pesticide exposure and the development of breast cancer in cases (Odds Ratio (OR) = 1.75; 95% CI = 1.08, 2.82) as compared to controls who were less exposed. However, these association patterns have not always remained as consistent and fluctuations have been seen with a number of studies reporting conflicting results of no association between risk of breast cancer and pesticide exposure.16-18 Hence, further studies investigating more localized and regional effects rather than globally would be more useful in gaining a deeper insight into this association in our local environment.
Organic food to the rescue?
In concordance with the findings stated above, expanding amount of evidence backs up the association between organic food consumption and decreased risk of breast cancer. The large-scale Sister study19 carried out by the National Institute of Environmental Health Sciences and the University of North Carolina enrolled 39,563 participants aged between 35 to 74 years. The study investigated the association if any between the consumption of organic food i.e., organic fruits, vegetables, and poultry. The study reported an inverse relationship between organic food consumption and risk of breast cancer [Hazard Ratio (HR): 0.87, 95% CI= 0.80–0.95], especially estrogen in receptor negative breast cancer (HR: 0.77, 95% CI= 0.61–0.98). Another large-scale comparative prospective cohort study20 led by French scientists enrolled 160,000 participants and reported similar findings of decreased risk of various diseases including breast cancer upon consumption of organic food.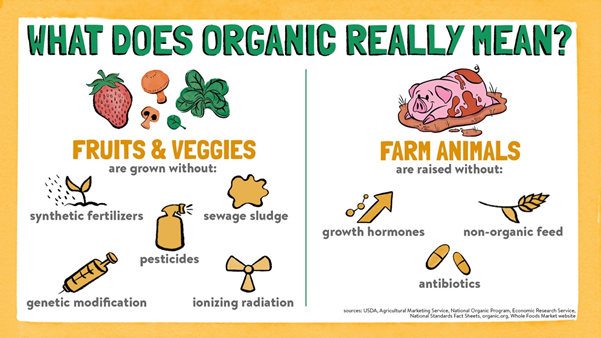 Future implications
Based upon the mentioned findings, it would be correct to believe that consumption of inorganic food has alarming health hazards. Shifting onto a completely organic diet can therefore enable to lower the risk of various diseases strongly linked to inorganic food consumption.
However, unfortunately, in Pakistan and around the globe, organic food is priced about 10-30% higher than inorganic food. This price gap is mainly attributed to expensive farming processes and slower production process.22 These factors potentially lead to organic food being unaffordable for the poor or working-class. Putting further research into methods of lowering the cost of organic farming and speeding up the growth and production processes can overcome the mentioned gaps. This would subsequently ensure the availability of healthy food for everyone in the society, lowering the risk of disease development and potentially declining the grim disease statistics. This could also potentially reduce the burden on the country's healthcare by reducing the number of patients.
References:
Health topics. Who.int. 2021 [cited 25 January 2021]. Available from: https://www.who.int/health-topics/
GLOBOCAN 2020: New Global Cancer Data | UICC [Internet]. Uicc.org. 2021. Available from: https://www.uicc.org/news/globocan-2020-new-global-cancer-data
Zaheer S, Shah N, Maqbool S, Soomro N. Estimates of past and future time trends in age-specific breast cancer incidence among women in Karachi, Pakistan: 2004–2025. 2021.
Cancer B, Cancer C, Cancer L, Cancer P, Types V, Program C et al. BRCA 1 & 2 Mutations: Cancer Risk & Genetic Tests [Internet]. Cancer Treatment Centers of America. 2021. Available from: https://www.cancercenter.com/cancer-types/breast-cancer/risk-factors/brca1-and-brca2
Breast cancer: Symptoms, causes, and treatment [Internet]. Medicalnewstoday.com. 2021. Available from: https://www.medicalnewstoday.com/articles/37136
Alcohol?, cancer?. Alcohol and Cancer Risk Fact Sheet [Internet]. National Cancer Institute. 2021 [cited 25 January 2021]. Available from: https://www.cancer.gov/about-cancer/causes-prevention/risk/alcohol/alcohol-fact-sheet
Estrogen: Functions, uses, and imbalances [Internet]. Medicalnewstoday.com. 2021. Available from: https://www.medicalnewstoday.com/articles/277177
Mondal N. Prevalence of Arsenic in chicken feed and its contamination pattern in different parts of chicken flesh: a market basket study. Environmental Monitoring and Assessment. 2020;192(9).
Lasky T, Sun W, Kadry A, Hoffman MK. 2004. Mean total arsenic concentrations in chicken 1989-2000 and estimated exposures for consumers of chicken. Environ Health Perspect 112:18-21.
China's Ban on Phenylarsonic Feed Additives, A Major Step toward Reducing the Human and Ecosystem Health Risk from Arsenic.,Environmental Science & Technology – X-MOL .X-mol.com. 2021. Available from: https://www.x-mol.com/paper/5885244
11. Macon M, Fenton S. Endocrine Disruptors and the Breast: Early Life Effects and Later Life Disease. Journal of Mammary Gland Biology and Neoplasia. 2013;18(1):43-61.
Maffini MV, Soto AM, Calabro JM, Ucci AA, Sonnenschein C. The stroma as a crucial target in rat mammary gland carcinogenesis. J Cell Sci. 2004;117(Pt 8):1495–1502. [PubMed] [Google Scholar]
White SE, Kato K, Jia LT, Basden BJ, Calafat AM, Hines EP, et al. Effect of perfluorooctanoic acid on mouse mammary gland development and differention resulting from cross-foster and restricted gestational exposure. Reprod Toxicol. 2009;27:289–298.
Tayour C, Ritz B, Langholz B, Mills P, Wu A, Wilson J, et al. A case-control study of breast cancer risk and ambient exposure to pesticides. Environmental Epidemiology. 2019;3(5):e070.
Engel LS, Hill DA, Hoppin JA, et al. Pesticide use and breast cancer risk among farmers' wives in the agricultural health study. Am J Epidemiol2005161121–135
Farooq U, Joshi M, Nookala V, et al. Self-reported exposure to pesticides in residential settings and risk of breast cancer: a case-control study.Environ Health2010930
Reynolds P, Hurley SE, Goldberg DE, et al.; California Teachers Study Residential proximity to agricultural pesticide use and incidence of breast cancer in the California Teachers Study cohort. Environ Res200496206–218
The Sister Study: What is the Sister Study [Internet]. Sisterstudy.niehs.nih.gov. 2021. Available from: https://sisterstudy.niehs.nih.gov/English/about.htm
Baudry J, Assmann K, Touvier M, Allès B, Seconda L, Latino-Martel P et al. Association of Frequency of Organic Food Consumption With Cancer Risk. JAMA Internal Medicine. 2018;178(12):1597.
How to Remove Pesticides from Fruits and Vegetables [Internet]. Happy Healthy Mama. 2021. Available from: https://happyhealthymama.com/how-to-remove-pesticides-from-fruits-and-vegetables.html
Hirsh S. Why Is Organic Food More Expensive Than Conventional Food? Green Matters. 2021. Available from: https://www.greenmatters.com/p/why-is-organic-food-more-expensive
Also Read: Pakistan's Innovations in Medical Sciences in 2020
A BSc Human Genetics and MSc Clinical Trials graduate from University College London. An ambitious clinical scientist who is interested in the field of cancer research and keen to promote cancer awareness and improve its therapeutics through her work in the field.