Anthropology turns to Progressive Politics in Pakistan
This article provokes methodological primacy within the anthropology of Pakistan that holds the promise to recognize progressive politics.
At present, Pakistan is in the midst of an engrained socio-political crisis and economic polarisation, poverty, violence, extremist religiosity, gender inequality, urban and environmental deterioration, and center-province power hierarchies. This multifaceted crisis in Pakistan calls for a feeling of urgency to take up a radically progressive political standpoint informed by social sciences and humanities.
Ironically, in Pakistan, the critical, scholarly epistemic potential of social science and humanities studies is hardly cultivated and deployed. In the context of global, political anthropology the critical positioning carried out by five anthropologists in 'Collaborative Manifesto for Political Anthropology in an Age of Crises' (Vine David et al, 2021) deeply inspires us to deal with anthropology's critical, practical role and purpose.
This article provokes methodological primacy within the anthropology of Pakistan that holds the promise to recognize progressive politics. The author shows how an anthropological awareness of the presence of progressive politics in Sindh can inform and set out new thinking and purpose of anthropology in/of Pakistan.
In anthropological research, teaching, and engaged connected scholarly practice (Wassan 2019) author's work in the wider domain of critical art, heritage, cultural expression, and the Muslim public sphere focuses on three key strands. They are public art, socially engaged/protest art, and alternative/counterculture narratives. The three strands tend to represent and imagine the aesthetics and anthropology of progressive politics. For instance, in the domain of music and dance author's ethnographic work in Sindh has brought out the creative, critical artistic practice of Sufi heritage that contains a profound potential for progressive knowledge production.
This work on the performance of critical Sufi heritage in Sindh has consciously drawn attention to the contentious and dialogical public culture and viewpoint that dare to contest the monopoly over religious knowledge by retrogressive clerics in Islam.
The author's anthropological engagement with the research theme of progressive politics in terms of social transformation arose through rights-based social sensitivity, participatory research projects in rural villages and urban slums, and social interactions with public forums (op-ed writings), movements, public culture, Sufi artists, feminist, human rights activists, and secular poets, playwrights, writers, and academics in Sindh province in Pakistan.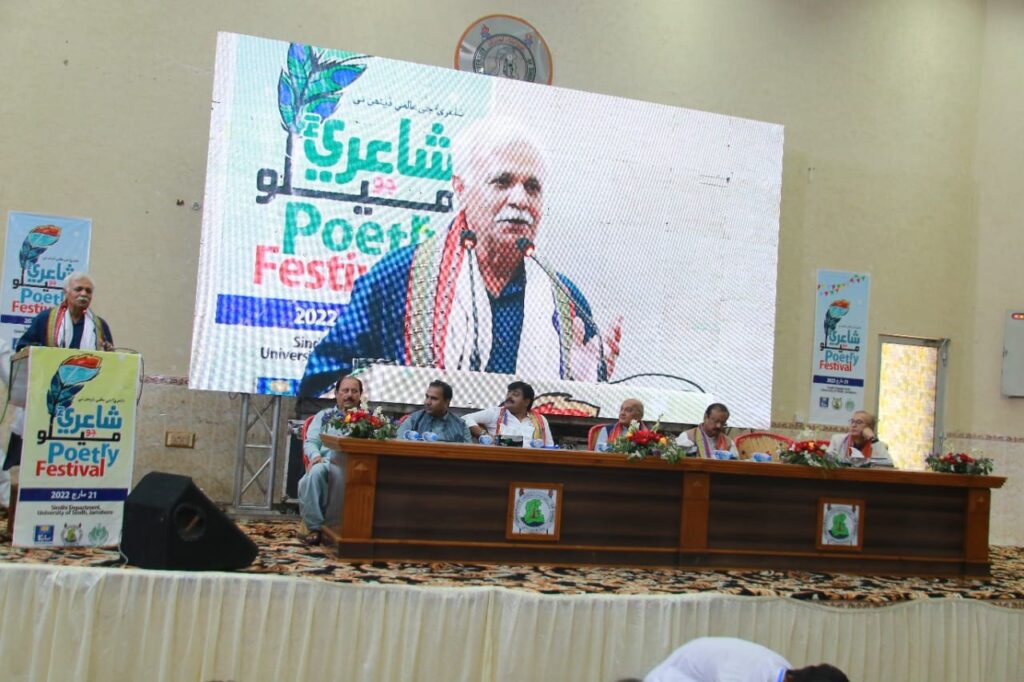 This multi-sited work with diverse social actors and public settings has created a novel methodological experience and process. In March 2022, the author had the chance to participate in the Poetry Festival held at Sindh University Jamshoro organized by the Department of Sindhi. At the festival, he was invited to moderate a session with the Seraiki language protest poet Ashoo Lal Fakir. The theme of the talk focused on 'Poetry and the River'. Ashoo Lal Fakir is a radical progressive voice, and the protection of the Indus River and its ecology lies at the center of his protest-induced cultural expression.
Wassan's work on Sindh's Sufi music heritage engages with the politically progressive artist Saif Samejo. Saif Samejo is the founder of Sufi folk-rock band The Sketches and organizer of the mega annual Lahooti Melo (festival) in Hyderabad that celebrates music, dance, and poetry. To promote the pluralist cultural identity of Pakistan, Lahooti Melo celebrates the rich artistic diversity by inviting local, national, and international artists, writers, activists, and intellectuals.
In his artistic work, Saif Samejo has produced protest songs that touch upon the critical progressive politics around the issues of gender injustice, religious hatred and extremism, and protection of the environment and ecology. In his progressive cultural production, Saif Samejo has raised a critical voice for the protection of indigenous land, resources, and people in Thar against the coal-fired extractive industry.
Another instance and source of my ethnographic awareness of radical progressive politics in Pakistan appear through Sheema Kermani the renowned Kathak dance artist, feminist, and human rights activist. Her public art performances espouse a powerful political protest and voice for the rights of marginalized strata. In recent years her public performances at the Sufi shrine of Lal Shahbaz Qalandar in Sehwan and Aurat March (Women March) specifically signify the radical political protest and action against religious extremism and patriarchy in Pakistan.
As Apla Shah has stressed in the 'Collaborative Manifesto' to champion the value of 'intellectual dissidence' in anthropology Sheema Kermani's public performances in Pakistan reveal the value of radical activist dissidence. The author's ethnographic turn to anti-colonial history and heritage of the Hur Movement in British Sindh tends to communicate another instance of anthropological awareness to document indigenous movements that challenged the dominant power structures.
In sum, the four specific cases discussed in this article articulate an anthropological awareness to pay attention to progressive political practice and action in Pakistan. More specifically, it shows the critical role and purpose of anthropological knowledge to address contemporary crises. Anthropologists in Pakistan need to cultivate collaborative research, and institutional, and public policy agendas that give special credence to and extend the practice-based knowledge and transformative purpose of anthropology.
References
Vine, David, David N.Gellner, Mark Schuller, Alpa Shah, Chandra L. Middleton, Gwen Burnyeat, and Melissa Maceyko. 2021. "Collaborative Manifesto for Political Anthropology in an Age of Crises." Anthropology News website, July 16, 2021.
Wassan, Rafique. 2019. Sufi Performance as Political Intervention. Taking Humanities on the Road THoR, WBKolleg, University of Bern. https://thor-takinghumanitiesontheroad.com/2019/05/02/sufi-performance-as-political-intervention/
Also, Read: The Cultural Diversity of Pakistan
Rafique Wassan is a Lecturer in the Department of Anthropology and Archaeology at the University of
Sindh, Jamshoro, Sindh.